Both Barron's and the WSJ penned articles on the endowments sorry performance for 2009 (and neither mentioned my book – FAIL).
Lots of readers have emailed in asking me to comment on the endowment performance, as well as to compare it to the timing model.
Below are asset class returns for June 30th, 2008 to June 30th 2009 (ie the endowment fiscal year).
US Stocks – S&P 500
Foreign Stocks – MSCI EAFE
Bonds – 10 Year US Govt
Commodities – GSCI
REITs – NAREIT
Buy and Hold is an equally-weighted, monthly rebalanced allocation to the above 5 asset classes
Endowments is an approximate return for the largest endowments in 2009 (probably ranging from -25% to -40%)
60/40 is the old 60% stocks, 40% bonds allocation
Timing Model is from my 2007 paper and 2009 book.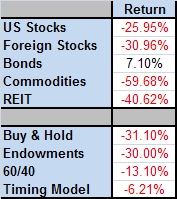 The buy and hold allocation would have experienced a 46% drawdown – yikes!  How many investors can sit through that?  (And if you read the DALBAR study you know they don't!)
Remember, the timing model is not intended to outperform buy and hold by much over the long run, but is rather intended to manage risk effectively.  It did just that with a max drawdown 1/7th the size of buy and hold…