There is a ton of good information in this quarterly report (link to PDF here, or in full at the bottom of this post).  Goldman looks at 687 funds with $500 billion in long stock positions.  Similar to a lot of what we do on AlphaClone.
They examine a few strategies that historically outperform the S&P500.  The first is a strategy of buying the 20 most concentrated stocks (defined as hedge funds owning X% of the company).  This has beaten the market by 14% a year since 2001.  The 20 current stocks are:
SHLD
AN
AZO
CF
CBG
JAVA
NYT
AKS
MA
ETFC
CTL
SLM
AYE
GT
HAR
LIFE
WYE
ANF
MBI
CIEN
The highest concentration of stocks <$1billion market cap is:
FDML
LORL
ARII
RDEA
VIRL
AMV
AMAG
TSTR
CHRD
SUAI
Another strategy is the VIP list.  This looks at the 50 stocks that most frequently appear among the largest 10 holdings of hedge funds with 10-200 holdings.  This strategy has historically beaten the market by 2.8% a year since 2001.  The top 10 are:
BAC
MSFT
AAPL
GOOG
JPM
PFE
QCOM
RIG
You can play around with these and many most similar strategies over on AlphaClone.
And probably my favorite graphic, here is the portfolio density of hedge funds vs. mutual funds.  If you recall from the academic literature, you want the concentrated funds and not index huggers.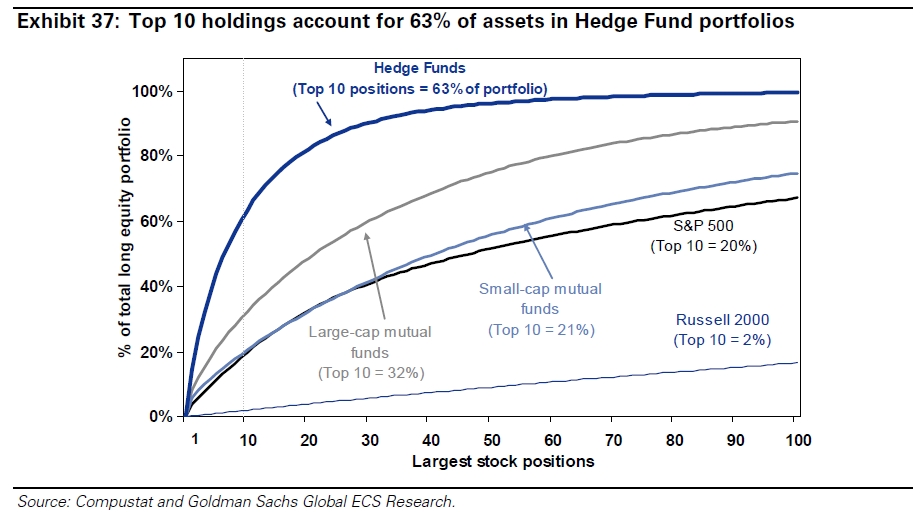 The 100 largest hedge funds by equity assets: