Third Point has been one of the best hedge funds in the world for the past decade or so.  The fund has returned about 17% annually since 2000, an impressive feat considering the paltry 2% returns of the S&P 500.
Interestingly enough, investing alongside Third Point through 13F filings does a decent job, but doesn't capture all of Loeb's alpha.  The clone would have done 11% vs 17% for the fund, but that is still leagues above the S&P.  
Note:  We wrote a lot about foreign listed hedge funds in our book The Ivy Portfolio (update here and here).  Loeb's London based public fund does an even better job of tracking the hedge fund, and you can often buy it at large discounts to NAV (like when we wrote about it at a 40% discount  in 2009!).
I didn't include 2013 but Loeb's clone is up another 25% or so YTD.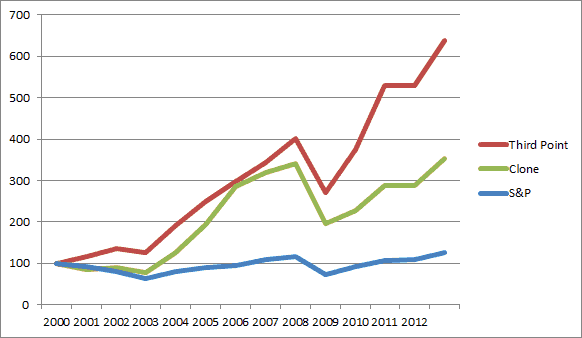 Source: AlphaClone