Episode #67: Simon Black,Sovereign Man, "I See A Lot Of Red Flags"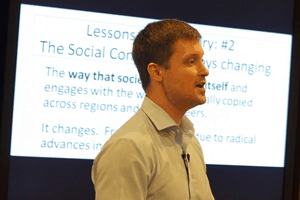 Guest: Simon Black is an international investor, entrepreneur, founder of Sovereign Man and the editor of its flagship international diversification service, Sovereign Man: Confidential. He has started his own private investment bank, founded one of the largest agricultural production companies in South America, and started an international charity that provides entrepreneurial education to young people.
Date Recorded: 8/9/17     |     Run-Time: 56:54
---
Summary: We start with Simon's military background, having been an intelligence officer. He spent lots of time overseas, yet became disillusioned after the promises of WMDs failed to prove accurate. From this, he began challenging the status quo.
Underpinning everything was an ethos of personal freedom, which is at the core of what Simon's newsletter, Sovereign Man, is really about.
Meb asks what global red flags and/or issues Simon is seeing now which might be challenging our personal freedoms. Simon tells us "I see a lot of red flags." Specifically, he's seeing a global trend toward socialism. People have a sense that the system is rigged. There's an intuitive understanding that something is wrong, though people aren't quite certain what it is, so they blame capitalism. But when people gravitate toward socialism ("I want more free stuff"), we run into the challenge of too many people wanting to jump on the cart, without enough people actually pulling the cart.
This leads to an interesting conversation about the effects of socialism in Venezuela, where Simon is located. He mentions how there are vast quantities of soil where the Venezuelans could be growing crops, yet there is starvation. He steers the conversation back to challenges here in the U.S., which leads toward the need for what Simon calls a "Plan B." In essence, this is a plan intended to protect yourself and your assets from the various risks we face today on many levels – financial, personal, governmental…
Part of an effective Plan B ties to diversification. Simon mentions how if all of your assets are in the same banking system, then you're not diversified. So, Simon suggests at least some money should be kept in banks outside of the U.S. – after all, there are many global banks that are better capitalized than those here in the U.S. He offers Hong Kong as an example.
The conversation drifts toward an example of personal diversification – getting a second passport. Simon thinks this is the ultimate option, providing tons of opportunities and benefits – all upside with no downside, for minimal cost.
Next up is Simon's suggestion to legally reduce your tax burden. He tells us "reducing your taxes…that's the easiest return on investment you'll ever make." Simon tell us a favorite tax-reduction technique upon Meb's request.
Then, the guys discuss having cash outside the U.S. banking system. The conversation references why this is important – just look at what happened in Cyprus and Greece a few years ago. This leads into a discussion of cryptocurrencies. Simon tells us how so many people putting money into crytos today now have no idea what they're doing – do they even understand Bitcoin and Ethereum? Who has actually read the original white paper on Bitcoin?
There's way more in this episode: where Simon is looking now for safe, margin-of-safety-style investments around the globe… how private equity can help your portfolio… Simon's entrepreneurial advice… what Simon's readers are most concerned about today… and of course, Simon's most memorable trade – it involved day-trading Compaq (and losing everything).
---
Sponsor: Roofstock – Build long-term wealth and passive income with Roofstock, the leading online marketplace for buying and selling leased single-family rental homes.

---
Comments or suggestions? Email us Feedback@TheMebFaberShow.com or call us to leave a voicemail at 323 834 9159
Interested in sponsoring an episode? Email Jeff at jr@cambriainvestments.com
Links from the Episode:
2:16 – (First question) – Background on Simon
4:43 – Any red flags in the US that have been in focus for Sovereign Man
6:13 – The importance of having a plan B
11:32 – Action steps to creating an effective plan B, starting with diversification
16:15 – Jurisdictions where you may want to consider keeping some of your assets
17:54 – Benefits of having a second passport
21:47 – Why legally reducing your taxes is one of the best moves you can make
24:35 – Cash outside the banking system
28:05 – Thoughts on crypto currencies and precious metals
30:36 – Why crypto currency is still very speculative
35:04 – Extraordinary Popular Delusions and Madness of Crowds – MacKay
37:26 [Roofstock Sponsor]
38:38 – Simon's general philosophy on investing today
44:05 – How Simon got to grow his farming business
46:29 – The challenges for individuals to invest in farmlands
47:21 – Advice to someone early in their career that is looking to take up an entrepreneurial venture or invest in private companies
50:09 – Podcast EP #49: Steve Sjuggerud
50:51 – What are most people concerned about today
52:42 – Simon's most memorable investment or trade
54:06 – Any interesting travel plans in the near future
Transcript of Episode 67:
Coming soon.