Episode #333: Startup Series – Rob Forster, Wonderbird Spirits, "Making Gin Is Truly An Art"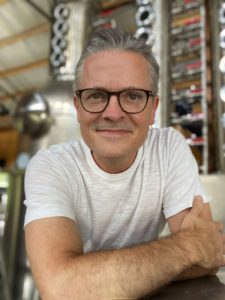 Guest: Rob Forster – A native of south Louisiana, Rob came to Oxford in the footsteps of his father, an Ole Miss Law alum. Rob is a graduate of the University of Virginia, where he studied political science (BA '97) and law (JD '02). A corporate and entertainment attorney, Rob practiced at major law firms and corporations in both New York and Los Angeles for fifteen years before returning to the South with his family in 2016 to co-found Wonderbird. He handles legal and regulatory matters, helps spearhead business development and growth, and, like his partners, rolls up his sleeves to tackle all tasks small and large in the creation and production of the distillery's gins, about which he is so proud.
Date Recorded: 7/1/2021     |     Run-Time: 1:14:51
---
Summary: In today's episode, we hear how Rob stopped practicing law and decided to open up a distillery to create two gold-medal winning gins. Rob shares what it was like to get the company off the ground and then dives into the process of distilling the alcohol from start to finish. We talk about the regulatory differences to sell directly to restaurants and sell DTC in 37 states, and why the little things like choosing what bottle to use makes a huge difference.
As we wind down, we hear about Wonderbird Spirits' current fundraising experience and what the future holds for the company.
---
Sponsor: Riders Share is the Airbnb of motorcycles. On Riders Share, people and businesses list motorcycles for rent. Since launching in 2018, over 15,000 people have shared their motorcycles on Riders Share, creating the largest variety of motorcycles available for rent in the world. Riders Share finds vetted licensed customers, supplies insurance, roadside assistance and handles payments on behalf of its motorcyclists. To learn more, please visit www.riders-share.com

---
Comments or suggestions? Email us Feedback@TheMebFaberShow.com or call us to leave a voicemail at 323 834 9159
Interested in sponsoring an episode? Email Justin at jb@cambriainvestments.com
Links from the Episode:
0:38 – Intro
2:53 – Welcome to our guest, Rob Forster
5:48 – Going from a high powered lawyer to making world class gin
15:47 – The gin-making process
18:58 – Experimenting with jasmine rice as a fermentation base
32:16 – Deciding when to make head, heart, and tail cuts
36:20 – Sponsor: Riders Share
38:27 – Deciding the final recipe
44:41 – The production and distribution process
50:37 – Distribution channels and going DTC
56:22 – Getting the Wonderbird story out there
1:00:22 – Where people can reach out to invest in Wonderbird; DM on Instagram @wonderbirdspirits; email rob@wonderbirdspirits.com
1:02:37 – Expansion plans
1:04:50 – Rob's favorite pairings for experiencing Wonderbird gin
1:08:24 – How the team came up with the name Wonderbird
1:09:47 – Rob's most memorable moment over this new journey
1:11:04 – Learn more about Rob; wonderbirdspirits.com; Instagram @wonderbirdspirits; email rob@wonderbirdspirits.com
Transcript of Episode 333:  
Welcome Message: Welcome to "The Meb Faber Show" where the focus is on helping you grow and preserve your wealth. Join us as we discuss the craft of investing and uncover new and profitable ideas, all to help you grow wealthier and wiser. Better investing starts here.
Disclaimer: Meb Faber is the co-founder and chief investment officer at Cambria Investment Management. Due to industry regulations, he will not discuss any of Cambria's funds on this podcast. All opinions expressed by podcast participants are solely their own opinions and do not reflect the opinion of Cambria Investment Management or its affiliates. For more information, visit cambriainvestments.com.
Meb: Welcome, podcast listeners. Today we have another episode on our podcast founder series, where we invite kick-ass entrepreneurs to chat about their experiences from the frontlines of starting a company. We cover everything from newly minted startups still struggling to make it out of their garage, all the way to the elusive unicorns that are either transforming traditional business sectors with innovative ideas or creating entirely new ones through cutting edge technologies. Either way, the result will be total catastrophic failure and bankruptcy or hundreds of millions of dollars of revenue and a valuation worth north of a billion dollars. Listen in to hear the tales of blood, sweat, and tears as these founders try to change the world. As a disclosure reminder, I've invested in most if not all of these startups and will look to invest more as they continue their startup journey. Please enjoy the next episode in our founder series.
Meb: What's up, y'all? We got a really fun show for you today. Our guest today is one of my old buddies, co-founder of Wonderbird Spirits, Mississippi's first grain-to-glass gin distillery. In today's episode, we hear how our guest went from practicing law to starting a distillery that's created two gold medal-winning gins. Our guest shares what it was like to get the company off the ground and then dives into the process of distilling the alcohol from start to finish, including sourcing the ingredients from local farms. We talk about the regulatory differences to sell direct to restaurants and also sell direct-to-consumer in 37 states. And why the little things like choosing what bottle to use makes a huge difference. So, we wind down. We hear about our guests' current fundraising experience and what the future holds for the company. Please enjoy this episode with Wonderbird Spirits' Rob Forster.
Meb: Rob Forster, welcome to the show.
Rob: Thanks for having me, Meb. This is great.
Meb: Today we are joined by my longtime friend, although last time I saw you, you had a really long ponytail. What happened?
Rob: That's a pandemic tragedy. It was just too much time on my hands and I told my wife I was going to go out on the porch and shave my head, and I did.
Meb: That's what I did. Everyone went long or short. I picked it because the person who cut my hair went on a road trip and never came back. But I've been reduced to bathtub wife cutting it. But you had, it was like waist length almost at one point.
Rob: It really was. And I was the guy who had never done that and then finally in his 40s decided, no time like the present, and I got it down to almost my hip, as you said. And then in 15 seconds, I had a shaved head and a very, very long piece of hair to donate to a man probably somewhere here in America who needed a wig after some cancer treatments.
Meb: We're going to talk about all things spirits and startups. I'm a little frustrated because we were originally going to do this chat at about happy hour time on the West Coast. I was going to pour myself one of y'all's gin and tonics or something, but it's like 9 a.m. here and I couldn't bring myself to do it. And I think it would just… I would be in bed at about noon because you were just coming back from Las Vegas, Cosmo. What were you doing out there? You setting them up with some gin?
Rob: You know, we got an incredible recent introduction out there to the Cosmo, as you just said. And yes, at our stage of the game an opportunity like Vegas, an opportunity like the Cosmo. We got on a plane immediately, just spent three days there. It looks like we're going to get an incredible launching pad for Vegas. That resort is kind of mind-blowing. I'd never been there before. Obviously, it's just the physical kind of plant, but the execution level at the bars and restaurants is world-class. It really is.
Meb: Chandelier bar is beautiful. I remember, pre-pandemic, I had been at the Cosmopolitan and they have a cocktail there that has some of the, like, Chinese Sichuan that makes… I think the Chinese peppercorns that makes your, like, mouth go numb. Better story, you and I went to university together, and I was riding up an elevator and a girl turned to me and said, "Meb…" And it was a friend of mine. I'm not going to mention who it is, but she's like, "What are you doing here?" I'm like, "What are you doing here?" I was there for work. She was there for work, except she had a way cooler job. She runs Willie Nelson's cannabis company. She's like, "Do you want to come to a launch party tonight?" And I said, "Of course. Sure." And got to meet some of the most eclectic and interesting people I've ever met in my life at Willie's party. So, all happens at the Cosmo, listeners. Cosmo, you guys need to sponsor the show at this point.
Rob: It's a crazy property and we feel super fortunate to get this chance. We should, you know, if all things go well here over the next four, five, six weeks, have our gin on several bars there at the Cosmo.
Matt: Awesome. So, look, I knew you at Virginia. And last I checked, a handful of years ago, you were a lawyer, high-powered lawyer doing sort of corporate America. And next thing you know, you decided to start a gin company. Give us the origin story, my man.
Rob: That's all right, Meb, as they go. You and I went to UVA in the late '90s. I stuck around for law school, became a transactional attorney at first in New York, did securities and some M&A up there for about a decade, and loved that life and loved that career and learned a ton from it. I was a super film geek on the side. I'd gotten deep into, you know, I'm going to watch every film this director has ever made and read the books and try to understand it a little bit more. And I got an opportunity through another mutual friend of ours to go out to the West Coast and take some of that legal training and work at Sony Pictures and get close to the entertainment business. And that was also an awesome thing. And I did that for a while.
But I will be totally candid in saying that throughout that 15 years, I knew that it wasn't ultimately where I wanted to be. It was a route to that place. I just could feel that. I walked those curves and did all that good stuff knowing that, when it came along, I would take a shot at something else. And I think you have to stumble your way through that. That's a personal journey. But for me, you know, I'm from the south. I'm from the deep south, Covington, Louisiana specifically, living out in LA. Had two kids. And my father passed away. And he was living in Oxford, Mississippi. He was an old Miss law guy. And coming back to the south to sadly deal with his affairs and come to grips with, you know, the passage of time and so on, I got back to LAX once and I told my wife, "I want to move to Oxford and start over." And gratefully she said yes. That was about five years ago. Now she's originally from the South too and, you know, the rest of our families are still close. So, there was a lot of logic to it. But the big career jump was not sure what I want to do. I want to make something. I want to be proud of what I'm doing day in and day out on a personal level. That was sort of the driving, you know, logic.
Got here. Oxford is an amazing place, an attractive place for a variety of reasons. But one amazing thing is for a town of 45-ish, 1,000 full-time people, which obviously is tiny, tiny, tiny by LA standards, there are three James Beard award-winning restaurants. There's a food and bev culture here that's just really, really impressive. And people talk about the university a lot, people talk about Faulkner a lot, people talk about the blues trail a lot. But when people come to Oxford, they eat and drink very, very well. And I think it's something that's highly memorable.
And so, Tom Alexander, who we went to college with, and I had been talking for about a decade about whether a distillery was a good idea. Tom's a systems engineer and had built a still in his garage, and all that kind of stuff. I obviously had some corporate and business development background. We wondered if we could do it. When I got here and saw that no one had done it in this really cool food and bev scene in a really cool town, I called Tom who was living in Austin at the time, and I said, "Man, unless I'm missing something, this is it. This is the shot." And he came through town with his family. And within a couple days, I think he saw what I saw. And it was one of those, what am I missing kind of things, Meb, where you're like, why hasn't someone done this yet? This is so obvious. The good answer was, after some diligence, and just the timing was right. No one had gone for it yet. Tom moved over about a year later. I met another young guy here in town who was Mississippi five generations but had gone off to Georgetown and had traded equities on Wall Street. Super sharp, very, very high execution, you know, expectations in everything he does. And this was a dream of his. He's a little bit younger than we are but this was certainly a dream. And when I sat down with him a few times, I realized that it was such a commonality in terms of vision, in terms of execution level, like I said. We really loved a couple of other things that he brought to the table. And so, the three of us went into business together about three-and-a-half years ago.
And it was a kind of look each other in the eye. "Are we doing this?" "Yes, we're doing this." Okay. "Are we going past the point of no return?" "Yes, we're going past the point of return. We're all three going to get off the corporate merry go round, move to a really small little southern town and try to make a go of it." It's important to note, for purposes of that story, that, as much as we respect the role that Ole Miss plays in the Oxford culture and organization, this was never about making a gin that, and we can get to why gin in a moment. This was never about making a gin to serve to the Ole Miss kids. This was always about three guys who wanted to make something as good as they possibly could. And we didn't hire a distiller or a hotshot to come in from Portland and do this for us. We got our hands on 20 acres, we rented a bulldozer, we dragged a driveway, we rented architectural software, we design our own building, we GC'd our own building, we built as much of it with our own three sets of hands as possible. It was certainly a blood, sweat, and tears thing, you know, guys just buying a pair of work jeans and some gloves and get it after it for about a year-and-a-half.
Meb: There's a certain combination of both confidence, and like naïve confidence in your mind, like, "Hey, we're just going to go start a world-class gin company." But most people would be like, "Okay, that's way too hard. Stop." And, like, my personal experience, I've tried to make… I remember back in the '90s, my brother's older, but he used to homebrew beer that was absolutely atrocious. Like, it was so bad. It was like pumpkin stout. He's from Colorado. And so, we've had tire and a lot of these beer brands that were at the early stages of beer. And he's like, "I could do this too." No, no, no, absolutely could not do it. I've tried and I made Sake once, like, you would probably go blind drinking it. It was so bad. So, you guys said, "Okay, well, maybe we'll take a shot at it." Did you try to make some first and say, "Look, maybe or we're just going to go whole hog. We're committing to this and we'll figure it out?"
Rob: Well, I think it's a lot of the latter. There just has to be a certain mentality that you embrace that's like, okay, we're past the point of no return. We're taking all comers right now in terms of obstacles. Whatever it is, we're going to figure it out. Is it a regulatory problem? We're going to figure it out. Is it a learning how to make gin right problem? We're going to figure it out. Is it learning how to build this building without bankrupting ourselves? We're going to figure it out. So, that attitude, it's like a walking through walls kind of thing. You just go through that phase where you're going to figure it out.
I think it's important to talk about the gin and the making a gin. That's kind of like a lifelong pursuit, learning the craft of making gin. And I don't want to ever say, oh, well, we thought in a year-and-a-half that if the three of us tried really hard, we could climb the curves that people spent decades learning or learn from their parents or family or what have you. We did have confidence. But gin is truly an art. Making gin is truly an art. And I think we've established now in three years that we're good at it and we're getting awards, right? Very, very great awards from the big shows and all that good stuff.
Meb: You guys won the gold medal World Spirits competition. Come on, man. Don't downplay it. You guys have a world-class gin now.
Rob: And I appreciate you saying that. That was a huge, huge punch in the arm for three guys who were sitting out in a barn in 98-degree Mississippi heat to get that email. All it means is that we know what we're doing, that we got a chance, that we're making some good stuff. I'm coming along in a very slow way to the following. We're staying humble every day of this journey. It's extremely important to us, personally and professionally, that we stay on path. We've risked a lot to put ourselves in this position and give ourselves this opportunity, but we got a long way to go.
Meb: You're a world-class award-winning gin maker now, but in the early days, you were, like you said, a couple of guys with an idea. Why gin? First of all. And then let's talk about the whole process of getting started.
Rob: I think there are a few ways to answer the question. The first is just on the passion, right? We love gin. We're martini guys. If you know enough about the spirits world, and the history of spirits, the history of cocktails, you know what a central place gin plays there. It is one of the oldest spirits. The roaring '20s were largely about gin cocktails, etc. From a purist standpoint, it's an absolutely beautiful spirit when made sort of using the traditional methods.
Meb: My grandmother, that generation that lived through the Great Depression, she used to talk about making bathtub gin.
Rob: Without question, to varying degrees of success is my understanding. The real key to the gin was how beautiful it is as an art craft. Once you've introduced that four-note of juniper, which defines the class of spirit as gin, you then are given a completely open textbook to go and make your own thing. That's crazy exciting for three guys who ultimately want to get in there and nerd out and make it as individual, and singular, and extraordinary as possible. I do want to talk about the process of it, but just along that line, 2 of the 10 botanicals we've got in this gin, right? Come from our property. We're seven miles outside of Oxford. We pick red clover tops from our pasture. They add a sort of a chamomile-ish note to our gin. They simply can't come from anywhere else. That's phenomenal. In our back pasture, we've got this tiny little loblolly pine tree, right? Where we go and get these very fresh loblolly pine shoots. Again, those two things can only come from there. And so, it's so exciting as a maker to know that your thing is completely singular in that way.
Meb: That's a very, like, you know, the terroir, right? Like the land around there. And your gin has a very distinct taste to it. So, gin, just for the listeners, for the non-drinkers, the drinkers out there who may not know, gin is essentially, walk us through it, it's alcohol with stuff inside? Is that the simple way to describe it?
Rob: Gin is a clear liquor that has been infused with a chosen array of what are called botanicals. Berries, dried fruit, roots, leaves, etc. That essentially add their essential essences to that spirit, oftentimes through what's called dry vapor distillation, meaning, those chosen botanicals have been suspended oftentimes in a metal or mesh basket above the alcohol that's then heated, vaporizes, and as that vapor ascends a little chute, it passes through that gin basket, and thereby the essences of those things are imbued into the vapor of the alcohol. I'll stop there on that part though and then go all the way through because I do think it's important, and honestly exciting, for people to understand the process a little more carefully.
One crazy thing that we did, out of several, but one crazy thing we did was that we chose rice as our fermentation substrate. I'll go back even further. And this is not casting aspersions in any way. We are super supportive of anybody who gives this kind of a thing a shot. But a lot of micro-distillers these days and even big distillers are ordering their neutral grain spirit, you know, their base alcohol, from big factories in the Midwest, where corn and wheat are so overly plentiful. And we all know what ethanol factories are, and so on. And so, you get on your phone and you call someone, you say, "Two days from now, I want a truck with 10,000 gallons of NSG, neutral spirit grain, or neutral grain spirit, to show up at my distillery with the following characteristics." And then you take that volume and push it through your distillation process and get it back out the door. We are what's known as a grain-to-glass distiller, meaning, we chose to take a local agricultural product, ferment on it ourselves, and therefore, yield a raw alcohol that we then refined into our base. And that's why when you see grain-to-glass or field-to-bottle, it really means something. It means someone's gone a great deal further in terms of process to control their own alcohol from the beginning.
And I'll just stop there because when we went to the biggest spirits convention in the world was in Portland three years ago, ADI, American Distillers Institute. We went out two days early for this little summit they were doing for aspiring gin smiths, and sit down at 8 in the morning. They pass out five gins, they say, "Grade them, we'll be back in 15 minutes." We all take our notes and so on and they come back and the big reveal is that it's the exact same recipe, but it's just five different fermentation substrates. So, corn, wheat, grapes, what have you.
Meb: What's the most traditional? Is it corn? Is it wheat for kind of most of them or just those two?
Rob: Those would be the big two by a long shot.
Meb: Was there a pretty big spread in taste? Or they all taste the same, or what?
Rob: So, that's exactly right. Like, if you looked at the grades, you would see that people were basically, everything from A to Z as far as how they perceived those spirits. They were the exact same recipe. It was five different… So, they were obviously driving the point, the choice of fermentation substrate is pivotal, right? It's completely central to the ultimate product. We tried a lot of local corn here in Mississippi. Sweet potatoes are grown in massive quantities in the next county over. But we heard of a rice farmer down in the Mississippi Delta, which is this sort of mysterious mystical, you know, agricultural region about an hour South-West of here basically, where it's this pluvial floodplain of the Mississippi, you know, over thousands and thousands of years. The river's flooded and just basically deposited 20 feet of topsoil in these beautiful fields and you can grow anything in huge quantities.
We got to this rice farmer. He grows culinary rice for a lot of the great restaurants in New Orleans, Memphis, Birmingham, etc. And he gave us four different strains of his rice. We tried his jasmine rice, and it's just like what you think of when you cook with jasmine rice. It's crazy clean, but has beautiful natural aromatics. And for our purposes, a really nice high sugar content. I hate the phrase aha moment. But when we fermented out on that jasmine rice and smelled and tasted that distillate, that very raw distillate, it was clear that we were onto something very unusual. We essentially make, and I can go through all this with you and I want to, we essentially make a Sake beer during our fermentation process and then purify that, distill that into our base alcohol.
Meb: What's the name of the farm?
Rob: Two Brook Farms in Tallahatchie County.
Meb: Listeners, I promise this isn't pre-planned, but I literally had their Basmati rice last night for dinner. We do a handful of farming, kind of investing shows, and we had this kick-ass farmer portfolio manager, Shonda Warner on the show. Listeners, we'll add it in the show note links. She runs farming investment funds. She's based out of Oregon now. She used to be a derivative trader at Goldman in Tokyo and London. But she grew up on a farm in Nebraska. She came back to her roots, kind of similar story as yours but slightly tangential. Said, "Look, I want to manage farms."
And so, as we're talking through the show, she talked about a couple of the farms. And one was a hazelnut farm. So I ordered the hazelnuts, and we'll put the link in the show notes. It's called like Farmacopia with F-A-R-M. And then the second she was talking about this farm in Mississippi, and I bought, and I'm not joking, probably 10 or 20 pounds of rice. My family's huge rice eaters. We got the jasmine, we got the Basmati. I was like, I've never heard of a couple of the variants. They had funny names. And I said this on Twitter, you guys can go find it. I was like, "This is the best hazelnuts I've ever had in my life." And the same thing applies to this rice. I was like, this is so good. It's like, you know, straight from the source.
Rob: That's an amazing coincidence. And that person that you're referencing got you on to a very, very good farm. Those people, they are good people, smart, smart people, but their farming techniques are things that, you know, we see the world same way there. They've been an incredible partner for us. And like you said, the proofs in the pudding, that product is excellent. So, when Mike, his name is Mike Wagner. When rice Mike gave us four samples and said, "You guys have at it." And we got out this incredible distillate from the Jasmine, it really was a clear signal that that's where we're going to go. But I will say it came with some wrinkles, simply because we're only the third distillery we know of in the world making gin out of rice. The other two are in Japan.
There are a couple of reasons for that. One is the cost of rice as a fermentation substrate versus the cost of corn and wheat. But the other is really the biochemistry of rice and that jasmine rice specifically, it has a lot of sugar in it. But that sugar is sort of impacted in very long carbohydrate chains that are not rapidly consumable by yeast and have to be essentially revealed through the introduction of a mould spore that we bring in from Japan called Koji. Every Monday morning, one of us will get in a pickup truck, drive 55 miles down to Two Brook, pick up a bunch of rice, come back, clean it, steam it, and lay it out on big harvest tables, inoculate it with that mould spore that we import from Japan. But the introduction of that Koji is an incredible part of our process. It's so hands-on. If you have ever done any Asian cooking, or obviously just eat in an Asian place, you've had Koji. It's in lots of misos, tempus, etc. A very important part of that. But I'll just go back to the main point. Choosing rice as our fermentation substrate was a critical decision for us. It put us in a very small category, almost no one in the United States really knows how to work well with rice vis-à-vis gin. So it sent us off down a bunch of other rabbit holes.
And using a lot of hard work, a lot of conversation, the help of a Sake maker in Nashville, over about a year-and-a-half meant we were able to kind of learn how to do it properly. I cannot tell you how many times I, as the smallest member of the team, had to get inside the mesh cooker with an icepick and spend four hours, you know, trying to pick off the latest batch that we'd burnt to the bottom of the kettle because we didn't know what we were doing. Those are the stories that you just have to go through that phase. You have to stumble upward. Unless you're going to bring in somebody that knows how to do it and has been doing it for 10 years. You just got to be willing to go through that break it and learn phase.
Meb: How many batches did you guys make till it was like actually starting to get drinkable? Was it drinkable out of the gate? You're like, "Oh, this is pretty good?" Or were you just like, "Oh dear God, what do we do?"
Rob: It's a full on science lab, right? And that's where I have to take my hat off to my partner's who got super, super nerdy and really designed databases that were tracking so many elements of the results. And that was months and months and months just to learn how to come out with a decent rice distillate, or come off of rice, and I'm happy to go back to it because it's incredible. But we take that rice, we clean it, we steam it. We will add it to the mash cooker, which is a big 350-gallon vessel that we have at our distillery along with 150 gallons of water from an aquifer right below our feet, about 80 feet below us is a Colfax aquifer. So we're getting some really nice, pure water. And then we'll add 500 to 600, depending on conditions, pounds of our rice, another portion of rice that's been coated with that Koji mould spore. And then the other critical thing that we learned how to do, Meb, was, keep that entire mash up to several different plateaus at each of which an acceleration of that enzymatic breakdown is occurring.
And so, you know, at 170 degrees, if you stick a mug in there, it's essentially like a very, very sweet rice shake. It's a delicious, kind of fortifying rice shake, and that is your mash. All that sugar has been released into the liquid. And then we'll pump it over to a fermenter, introduce our yeast, right? And you can go really far down the rabbit hole on the yeast question too. But we tried lots and lots of different types of yeast because each of those decisions, right? Is going to have an effect on the end product. What type of Koji you use, what type of yeast you use. Of course, the rice that you use to begin with, all of that will ultimately affect the product. We taught ourselves how to yield well off of rice. We were warned that corn and wheat yields on a ferment were typically 8% to 10% alcohol by volume, we're getting more like 13, 14 on our ferments with rice, which is incredible, from an efficiency standpoint, right? The amount of alcohol that we're creating per ferment is quite high.
Once we have that raw alcohol, seven, eight, nine days later, we then put it into our still. So, you have a mash cooker, where you're sort of preparing this mash, releasing these sugars, and then a fermenter, a big vessel where the yeast is introduced. And then once that raw alcohol is created, you pump all of that stuff over to the still. The first job, right? You've got 13%, 14% alcohol by volume in a 350-gallon vessel, the first job is to separate that alcohol from the rest of that mess. So, you take that still, put it all into the vessel there, fire up an electric boiler that we have that Wonderbird, and at 173, 174 degrees, it's absolutely amazing. It's science 101. That alcohol will begin to vaporize and separate from the rest of that, you know, what are called spent grains. It's essentially a byproduct, a waste product.
And in that first run, which is called a stripping run, because the purpose of it is to strip the alcohol from the fermentation, we'll run it straight up our pot column hybrid. And I can talk about what that means. And then we pull it over to a condenser column. And we've got our first kind of alcohol yield right at about 46%, 47% alcohol by volume. Super raw, super unappetizing, a bit dangerous and a bit volatile. So, not good, but you've got your very base raw alcohol after that first stripping run. We give the spent grains to a local cattle rancher because that's good organic material, where we get rid of our mess and he gets something for his cows.
And then we take that raw product, that 46%, 47% stuff, put it back in the kettle, so it's just alcohol this time. And this is the time where we're trying to take that very raw product to an extremely clean and distilled pure form. And this is, again, all predicate to actually creating gin. So, the stripping run, first step. Second step is what's called the base run. We use our still like a column still in the second run.
A column is obviously just a large cylinder of metal. But within that column, depending on how you had it fabricated, you have what are called plates. It's essentially a little piece of copper in the shape of a bubble. And we, of course, put it back into the still, reheat it, 173, 174 degrees, it vaporizes, and it starts to come up through the column. This time we've engaged the plate, that vapor will hit the underside of that condensation surface, condense in liquid form, arrive down in a little inventory in the middle of that plate. It's then reheated, revalorizes, and goes around the old plate and up into what's called the next phase. And the reason I'm being granular here is because, every time the alcohol condenses, vaporizes, recondenses, vaporizes again, it's shedding off flavors and impurities. And that's how you're purifying or distilling, to use the right term, the alcohol. We've got 20 plates in our system that we ask the alcohol to traverse the second time. So, that's a lot of micro distillations that are occurring. And when we pull it, when it hits the condenser column, that second run, we're getting it at about 93.5%, almost 94% alcohol by volume. So, almost as advanced as you can take alcohol chemically.
We do not, however, take it all the way to 95%, which is the standard definition of neutral grain spirit, because we don't essentially want to cook out all the elements of that rice and Koji that we worked so hard to produce. So, that sounds like a lot of detail. But for people that know the alcohol business, it's fascinating. If we were just buying our alcohol in bulk from elsewhere, you can't say, "Oh, send us that, but send it at 93.2% alcohol by volume." It's NSG95 or nothing.
Meb: Well, and plus, you guys get to control the whole process, you know. I mean, the challenge is, like you mentioned, like, if you're ordering from a lot of these suppliers, like, you don't know what is going into it. Now you're, like, literally control every aspect of what's going on.
Rob: You control everything. But ultimately, if it's not affecting the product, then those are all just lost words. The reason that we do it that way is because it affects what's called the mouthfeel of that gin. It's just far silkier. It's got a lot more texture and it plays with your palate in a different way because we don't take that alcohol all the way to neutral. And we're proud of that. Once we've then pulled it at 93, 94, so we've done our stripping run, now we've done our base run, I think conceptually, we've then got the blank Canvas, upon which we start painting those gin notes.
But what I'm about to say is actually very important. When we started teaching ourselves how to make cuts, and in alcohol, when you go to distil something, the first call it rule of thumb 10% that comes off that still is going to be unappetizing. It's going to be dangerous. It's going to be what those are called heads. You want to collect those and separate them. That's not stuff that you want to serve to yourself or to your public. Then you get into what are called the hearts, that obviously means that's the good stuff. That's the stuff that you want. And then towards the very tail end of your run, you're going to get tails, 10% to 15% on the back end is going to be a byproduct as well. So, making cuts, deciding when you're into your hearts and when your hearts have run out and into your tails is a critical skill for a distiller.
Meb: Why is that? Is that just because it kind of bunches on the process of coming in and out? I mean, is there any, like, scientific reasoning for that? I imagine it must be challenging because it's a trade-off between probably total yield, and efficiency, and quality?
Rob: You put your finger right on it. But I think that most fine spirits that you've had, whether they're gin or anything else, are really defined by the precision of the cuts. In other words, was a distiller that really knew his or her stuff, sitting there, monitoring that run as that cut was approaching and making that cut as fine as possible? So that some of those unwanted flavors, and smells, and unwanted, chemically, meaning stuff that's got different types of alcohol in it that might be a little bit dangerous for you. Are they making sure that that cut is made as precise as possible? That is really, really one thing as you learn more about the fine spirits business, that really defines a fine spirit, the precision of those cuts.
But what I'm about to say, it derives from that, which is, it's simply like cooking, onions take longer than spinach, and carrots take longer than onions. When you go to make gin, the typical gin distiller is going to take his or her chosen botanicals, put them into the basket, right? The mesh basket that overhangs that pot of alcohol. Get the alcohol warmed, vaporizing, run it through that basket, make their cuts however they see fit. And then Bob's your uncle, you've got your gin. When we started doing that, going back to the top of this conversation, it wasn't coming out pure enough. We were not expressing those notes as precisely as we wanted to. So, when you go and start doing it on a lab basis, Meb, it's very clear that the hearts of let's say the rosemary are going to come at a different place chemically than the hearts would for red clover tops, or for black tellicherry peppercorn, or for your juniper, or for your angelica root. And so, once we made that fairly obvious realization, looked each other in the face, what we realized is we needed to do each of our distillations by themselves.
So, for each of our 10 botanicals, we do a run on a very small controlled still where it's just one thing. So, we'll just have our day spirit and we will do a run that just has juniper, or we'll do a run that just has coriander, or we'll do a run that just has angelica root, thereby allowing us to make far more precise cuts and get the absolute best essence of each of those 10 ingredients. And then we blend them after the fact. No one does it that way because, in our case, it's 10 times more effort, but you can get the best essence of each doing it that way. And then that blending leads to a more layered spirit almost like something you would go and sip over an ice cube or a peel just in a very, kind of, aesthetic way. You're trying to appraise a very fine thing.
Sponsor Message: Today's sponsor rides on two wheels, Riders Share is the Airbnb of motorcycles. On Riders Share, people and businesses list motorcycles for rent. Since launching in 2018, over 15,000 people have shared their motorcycles on Riders Share, creating the largest variety of motorcycles available for rent in the world. People list their motorcycles for rent have the opportunity to earn a great return on their investment, while people who rent on Riders Share can save up to 70% when compared to traditional motorcycle rentals. Riders Share finds vetted licensed customers, supplies insurance, roadside assistance, and handles payments on behalf of its motorcyclist. To learn more, please visit www.riders-share.com.
Meb: Listening to this, it's fascinating because it almost feels like there's endless amounts of potential iterations and experiments. And I'm listening to you, you say this and I'm like, that doesn't sound like typical. It sounds like most just kind of put it all in and, you know, that's how you do it. But that's fascinating.
Rob: It is fascinating. I appreciate you listening to it. It takes a while to understand it, but when you step back from it, everything I just said in 10 minutes can be summarized by, we were trying to make it as good as we could possibly make it in every way. We just did not take one corner. And we're very proud of that. And we're very proud that people are recognizing that this is a truly handmade item. We don't have employees, Meb. It's three guys out in the barn doing this all day long, five days a week. And we want it that way. This is the pure phase of our process where, if the 10,000th bottle tastes any different than the first, then the first three people that are going to be upset are us.
Meb: It's funny because you talk to a lot of people and there's the romance of farming, and I'll put this under the category of farming and creation. And then there's the reality of it. And the reality is, like, it's a lot of work, things often go wrong, you know, and you're constantly balancing so many different balls in the air, and particularly the ability to get a consistent product that is great is not trivial. And takes, as you mentioned, it's like the 40 hours of mentorship, right? So, how does it work? So, when you guys make…? Do you have, at this point, sort of a set recipe? Are you still doing different iterations you'll try on the side? This is what? Like a three-year process since you guys began? When did you guys start saying, "Okay, this is actually drinkable, not just like friends and family drinkable, but let's start producing and selling it?"
Rob: The rice really was so challenging that I say the recipe development actually ended up being two-phase, meaning, we had to get that neutral grain spirit recipe right before we could even start thinking about imbuing it with some of the gin botanicals.
Meb: Then it's like infinite permutations. You're like, "All right, we got the rice done, but now we could literally do 100,000 different variants of what we want to go."
Rob: That's both the beauty and sometimes the frustration of this creative business where we could still be out there trying to get it perfect. And by the way, there's no perfect, and we all know that, right? And there's no one best way to do it, and there's no one best gin in the world. But when you're trying to do it as well as you possibly could, when you're trying to make a world-class thing, yeah, you got to iterate. The reason it says 61 on our bottle here. This is, you know, our flagship gin, the reason it says number 61 is that was the 61st combination of those 10 botanicals. We started with more than 20 botanicals during our recipe development. After we developed confidence in that base spirit, as I said, and knew that we could replicate that time and time and time again, got very, very formulaic in how we did things to yield that very, very nice base spirit every time.
Then we started playing around with botanicals and mixing botanicals and smaller batches of botanicals. You know now from what we just said that we ended up doing each of our botanicals individually, but zeroed in on these 10 over time and then started combining them. True recipe development was about three months. So, we got up into the 80s. We got up into number 84, but kept coming back to 61 as something that we really felt strongly about as being an excellent product. And so, we went to market in May of 2019. And we had, again, gone to that convention out in Portland, met a very, very astute and generous gin smith that coaches a lot of upcoming gin companies. He had befriended us, didn't ask for anything. One beautiful thing about this business, and I loved being a corporate lawyer. But, listen, let's be honest, there's a lot of zero-sum kind of calculation in that world. One thing about the distillery business is, if you ask somebody for help, 9 out of 10 times, they will say, "Come on into my office, put up your feet, let's have a good chat." And it's a beautiful thing.
Same thing happened with this fellow out in Portland. And he just took an interest in us, said, "Hey, I'm happy to answer a question here and there." Meb, it was really sending a sample of 61 out to him when we thought we had a pretty good product. And he said, "Tell you what, what are you doing on Saturday? Block out three hours, let's do a full virtual tasting, as if I'm at a show. I need you to get the supplies, and this is the way the protocol works, and so on." And he judged us out, you know, over the course of about three hours. And at that point, we did not truly understand all the elements that went into judging a fine spirit. But at the end of it, he graded us out and he said, "You know, you're going to win a lot of competitions with this gin."
Meb: Did you just pee your pants as soon as you heard that? Like, I feel like I would be just like, "Are you joking? Are you kidding us?"
Rob: When you take these journeys, that's definitely one…that's a moment that I won't forget, where I was like, "A guy that really knows his stuff is saying, 'Pencils down go to market.'" And that was thrilling. And so, that was late May of 2019. Again, we had convinced ourselves and really proven to ourselves that we could make it at mass repeatable, same stuff every single time. So, we just needed the green light from him and we went to market.
Immediately, the state of Mississippi put us on their back. We got a lot of great reception. We wanted to start small, Meb, and sort of prove that we could make this stuff in big numbers. And, again, you know, repeatability is very, very important, supply chain, very important, all that stuff. And, you know, then February of 2020, right? Not eight months later, we got a gold medal from San Francisco, you know, one of the biggest competitions in the world. Massive thing for us, validation for us, excitement for us. And then we got to go up to Beard House in New York through a Mississippi connection and present the gin there, and had an amazing night there. That's an incredible place. And we're really feeling like, "Wow, we've got a heck of a thing on our hands." And, of course, the next week, all of our lives kind of got put on ice. And we are the kind of guys who started this business knowing that you're going to go through some ups and downs, and you got to be prepared for some unexpected things to happen.
We wanted to find the opportunity in the pandemic crisis, because, look, if we're not telling the story, if we're not meeting bar owners and mixologists, and really great bartenders in some chosen cities, and able to tell this story, it's hard with a new liquor brand. So we knew we're probably going to be on ice largely through pandemic. But what happened, going to your question and how this has evolved, is that, we were driving past all these granddaddy Magnolia trees on the Ole Miss campus every day back and forth to the distillery. And last August, we said, "This is the Magnolia state. Mississippi is about to change its flag, you know, after a long political fight. I wonder if we could distill some of that midsummer Mississippi Magnolia magic." And we did. And built a gin around that amazing essence over the back half of 2020, debuted that gin in November of 2020. And just found out four weeks ago, we got a gold medal on that too. So, we have two gold medal winners for our first two gins. Very distinct gins. But I will say, just as a realist, I was very pleased to know that we didn't just get lucky, right? We're making a really good product at the market and the industry are recognizing.
Meb: So, talk to us a little bit about, like, all right, there's one section, which is the art of it. You're a chef, you're making this gin, it's great. On a second part, it's like a chef at a good restaurant. It's then now you have the business of running a restaurant. And those are two totally different things. What is the like, the whole process of bottling, production, you know, you're a lawyer, dealing with the legal. I mean, like, not just in Mississippi, but shipping across state lines, getting into restaurants. Like, how has that experience been? Because you have a great gin, but that doesn't always translate into selling it, letting people know about it.
Rob: I've talked to you about the, kind of artistic I guess, reasons for gin, why we chose gin. But the other is, you know, if you look at a pie chart of U.S. spirits consumption, depending on your source, you know, gin is going to be in that 3% to 5% range. It is not had its bourbon moment. God forbid, its vodka moment, its tequila moment, where it becomes the spirit de jure, and everybody's wanting it for their home bars and so on. We feel like we're on the right side of that wave. And so, there's that sort of business reason. I think the other obvious thing to say, just true business 101, is that, we can go buy rice, you know, on a Monday morning, and 21, 20 days later we've got bottles of gin to sell to you, versus a good bourbon distillery, right? You're talking five to six years just to get to a product that they're going to be proud to release.
It's massive. But I will also say that we are not that distillery that's doing white liquor on the way to being a bourbon distillery. We want to be a gin house. And if it wasn't obvious from all that detail I gave you on the production process, we essentially make vodka on the way to making gin, but we're not releasing a Wonderbird vodka, simply because that doesn't feel right to us. We want to be a gin house, a world-class gin house. I would never say never as far as releasing other spirits. But, you know, it's a jack of all trades, master of none. We want to be known as gin guns.
But yes, you've asked a very good question about the selling of it. Alcohol distribution is done on a state by state basis. A highly regulated industry, of course. In some states, your main business partner is the state itself. There are control states, 13 of them across the country, where the state essentially has a monopoly on the distribution of alcohol and you need to sell to them and go process through them. And as you and I know from growing up in Virginia, going to school in Virginia, even the liquor stores are owned by the state, right? You're going to the ABC store to get your stuff.
Mississippi is not totally dissimilar. We don't have state-owned liquor stores, it's mom and pops by and large. You go up to Tennessee, completely different regulatory environment. Tennessee, for example, is split up into three different distribution fiefdoms, West, Central, and East. Tennessee is also known as what's called a franchise state, meaning, once you've chosen a distribution partner, absent some fairly unusual circumstances, that's going to be your distribution partner for quite a while. The distribution is a critical part of learning the true business side of selling gin or selling any other spirit. And that's a networking thing. That's a conversation by conversation. That's making sure that you're attending all the meetings, you know, reading all the literature. But then, yeah, asking people that have gone down the road ahead of you for advice, and help, and who's a good distributor in this town? And who's a good distributor in that town and who should we avoid? That is a critical part of this business. Because your distributors are absolute, they can be ambassadors. They can be door openers. They can be monster logistics either helpers or hindrances, depending on how their operation is run. So, making those decisions about who to go with and maintaining those relationships has been a huge piece of our curve climbing over the last year-and-a-half, and continues to be.
We started the call talking about going out to Las Vegas. Yes, we're going to get an opportunity at the Cosmopolitan. But the first question was, who do you guys want to distribute through out in Nevada? Right? So, we've got to go and learn the ropes out there very quickly and try to do that. So, supply chain management, you put your finger on that. You know, our bottles, Meb, going back to that ADI conference that I mentioned in Portland, you get unleashed onto the convention floor and there are 800 vendors, and it's like you've got six hours to make critical decisions about the future of your company.
And there are 15 glassmakers from all over the world. We fell in love with a new bottle from Barcelona. This is new to the U.S. market…is the really, really outstanding Spanish glassmaker. And we said, "That's our bottle." It's an incredibly high-end bottle. Got the beautiful punt on it. That's the kind of the lower part. You can drop this bottle from four or five feet up and it's very unlikely to crack. But, as proud as we are of it, we got to sweat this thing being on the high seas for four or five weeks before it gets to North Carolina and then gets on a truck and gets to us in Mississippi. Those are worries. Those are headaches. I don't think anybody Business School 101 would say you need to source your glass from Europe. But we did fall in love with that bottle, and it exudes the type of quality that we want the juice inside to exude. And so, we went for it.
The practical business 101 stuff that you're putting your finger on is a huge part of what we do. Ongoing regulatory, absolutely. But at the end of the day, once you've proven that you have a good juice and once you've proven that you've got a good package, this is a supply and demand. You've got to get your story and create that demand. What we're finding as we get older and more mature in this business is that one or more of us need to be in the field as it were in New Orleans, in Nashville, in Atlanta, in Vegas, in New York, in LA, multiple times a month to tell this story right.
Meb: What is, and this is probably different for you guys than obviously an established brand like Beefeater or something else, but as far as the channels, what is the large part of the pie? And I don't even know if you guys can do direct-to-consumer, I bought a few bottles, but I think it ended up being from a different website. It might have been because I was in California or just this was a year ago. What part is direct-to-consumer? Is it restaurants? Is it through distributors to like…? How does that work?
Rob: You can go on our website now and click Buy Here, and our gin can come to your doorstep in 37 states. That's a pretty big deal. You're not worrying about distributors, you're not worrying about getting out in the field. You're worrying about social media, podcasts, what have you, and purely in that avenue. But we're sending out a monthly kind of newsletter to people that have said, "Hey, we're interested in learning about your story." That's a good way to stay in touch with people. We're starting a second Saturday series at the distillery where every second Saturday we got a big band. You know, it's a family kind of thing with blankets, and dogs, and frisbees, and just a good old fashioned time. So we get 300 people out there having a good four hours on a Saturday afternoon. That's direct-to-consumer as well. We're really excited about where that can go.
Meb: Can you tour it?
Rob: Absolutely. Please come.
Meb: I've spent zero time in, sort of, that part of the world. And one of the farm investors that we've had on the podcast a few times, Acre Trader, is doing a conference, I think in early October, maybe in Arkansas, maybe in Mississippi. I can't remember where it is, that I may be going to. So we'll definitely have to do an event at y'all's place and come hop over if we're there.
But, you know what's funny is, and I love touring, you know, the various breweries or distilleries and have been to three that kind of left a lasting impression in my head over the past couple of years. There's a Sierra Nevada brewery in Asheville, that if you ever attend, if you ever go to is like, I had to google it because it cost like 150 million to build. But it is absolutely gorgeous. So nice. And then on the… You know, it's obviously a big company. But on the flip side, a buddy who runs a brewery in Jackson Hole, same thing. A sort of award-winning grape brewery. In his basement of the brewery he has his own, like, man cave, where it's like the best beers from all around the world. And so we had so much fun. I'm going to get him on the podcast one of these days.
But last, and this was an interesting insight, there is a whiskey distillery in LA called Lost Spirits. And they let you do a tour. And the guy that started it, I could be murdering the story, but I'll put a link in the show notes, came from some sort of background involving designing, I don't remember if it was like theme park rides or something in that genre. And he basically turned the tour into like a little bit of an experience. But as I'm going through the tour, and it was like 40 bucks and you got some whiskey at the end, whatever it was, I can't remember. But then I started to do the math and I said, "How many tours are you guys doing per day?" And it being LA as you know, it's like hosted by unemployed actors. So they're great at the tour. They don't know anything about whisky, really, but they're great at the tour. And then I started doing the math and I'm like, "Wait a second, you guys make $2 million a year just from the tour, not even selling whiskey? Like, you don't even need to sell whiskey. You guys could just be putting Jim Beam in these and doing the tour." So, anyway. And the last I would add was like scribe winery up in NorCal, does such a great job. I'm excited to come down there because it's such an extension of like family, and having the ability to… Usually they're on big grounds, which… You know, and it's anyway. I don't need to tell you, but I'm looking forward to it.
Rob: What you're saying is right. And, Meb, we love having people come visit, because I can do the best job I can conveying all this and describing all this on the podcast today. But getting eyes on the place and really taking you through the process step by step, it's a thrill. And you also get a visual on what the three of us have been doing for the last three years. Well, we've been building that building and making sure that we know how to make gin. And it's a heck of a lot of fun. I have to say I absolutely love doing the tours. And our tours don't cost anything by the way, so you don't have to run numbers on that.
The very, very critical part of our business over the next couple of years is bars and restaurants. Bars and restaurants are really your frontline. That's how you're engaging with the public. And, you know, this is what's known in our business as a hand sell, meaning, this is an expensive bottle, it's got a provenance and a pedigree, and people need to understand why it doesn't cost $23. We can tell the story but we need bartenders and somms and restaurant owners to get excited about this new rice gin out of rural Mississippi, and start telling that story to their customers and putting us on their cocktail menus.
And that is just a huge part of our business because, if someone wants to go and have a martini with Wonderbird in it, and hear the story, and then move on with their life, that's one thing. But if that bartender can really set the hook and that person has a martini that they've never had before, and then they say, "Where can I buy this?" And they can either go on our website or go to a good liquor store in that town and buy it, so, that's the second part, right? That's the pull through part. That's where they're going, you've earned a customer at that point. Because once people have bought a bottle, they tend to like it. They tend to like the story. They tend to like tell their friends about it. And they might buy that second and third bottle, which is how you develop a true customer base over time.
Meb: I mean, is that sort of one by one? Like, how do you get the word out? I mean, granted, I'm sure they see it just from some of the marketing press around the awards and everything else. But it seems like that's a lot of frontline meeting and chatting with these people.
Rob: That's a huge part of it. But again, we can't, meaning, the three of us cannot be that person every time. You need ambassadors. But we need to go and get a 20-minute staff training at that incredible restaurant or at that incredible mixology lounge. And then I do this for 30 or 45 minutes, those people know spirits better than I do. If they're impressed and really like what we're doing, part of their job is to tell that story to their customers, because that's what their customers want. They want to find a fine thing but they want to know where it came from and how it came to be and all that good stuff.
When you ask about bars and restaurants, it's those influential bars and restaurants that can really attract attention and attract sophisticated attention and that sort of thing that really help us. But I also believe, when you're starting a business like this, you got to try everything. So, if you get an introduction to Total Wine and Total Wine says, "We'll put you in 20 of our stores and see how you do," you take that shot too. PR often works on kind of a city by city basis. So, if you get a hook up with a good PR firm and you do a six-month engagement and try to really drive some demand in that particular market for a certain amount of time, that's another thing people do.
In our business, people also hire influential bar and restaurant personalities. They're not full-time hires. They're consultants. They're called ambassadors. And they're just people who like your product, jive with you and understand the difficulties and special elements of your product, and are willing to lend their name and go to a party here and there and say, "Man, this stuff's unbelievable. You got to taste it." Those are called brand ambassadors and they're very, very popular in our business.
Meb: You guys have a great story. I mean, that's a cool part. Not only it's like you got, it's good, but it's also the cool story that I think a lot of people, when you talk about entrepreneurship and just supporting brands, like, is it easier to get attached to Tanqueray, or is it easier to get attached to like the story that you guys are doing? And it's unique. I mean, like you mentioned, the rice aspect is pretty cool. How have you guys done this? You guys just bootstrap from your own money and credit cards or you guys got a private equity backing? What's the plans with the business?
Rob: This was done as bootstrapped as possible for a couple of reasons. I mean, I think we wanted to do it the hard way, not the stupid way, but the hard way. We put up our own dough to start this. We had a very, very minor friends and family round about two years ago. And when I say minor, I mean minor. That was just to kind of turn some lights on and get a little bit of operating capital. What we're doing now, right? With two years of production under our belts, and some real validation from the industry, and reception from guys like you, but also just mom and pop people that come into the distillery. We're getting enough confidence in our product, in our story, in our brand, that we're raising a more significant round now, that we want to finish out sometime this summer. The obvious twin goals there, Meb, are, you want to be able to increase your production and add some efficiencies on the production side. It's just three guys. We'd like to hire somebody that can help us with this. We'd like to buy some bigger machines, etc. But then the other twin goal, of course, is serious money on the sales and marketing side, including probably hiring some people there too.
Meb: What's target raise?
Rob: Two-and-a-half. We're more than halfway there. I'm feeling really good about it. We are trying to find folks that believe in us, believe in the product, believe in the story, but also have a network or a geographic diversity or a story of theirs that might be helpful. And so, that's a bit of a hunt, and that's what entrepreneurs go through is to try to find those investors that can really bring something extra to the table. And it's been a heck of a lot of fun.
Meb: If people are interested in potentially investing, what's the best way to get in touch with you guys? Email, website?
Rob: You know, Instagram is a great way to do it. DM on Instagram. And this is a very personal business. I give out my cell phone all the time, but my email is rob@wonderbirdspirits.com. And, you know, I'll be back with you in 10 minutes if anybody wanted to reach out, we'd love to chat. One thing I wanted to tell you about this, we've spent a lot of time on the details and the practicalities of it. And I think some people enjoy this element of it, some people don't. There's the whole emotional roller coaster of being a founder, and learning how to perhaps certain of us are over analytical and want to think their way through every situation and think they can. And then somehow, along the way, realize that sometimes trusting your instincts, and trusting your gut, and not overthinking things is actually the preferred route.
And that process for all three of us, learning to trust our own guts, but also learning that we're a democracy of three, this isn't like one guy who's secretly telling the other two guys what to do. It's a true democracy of three. Coming up with true confidence that the three of us, while we might not always agree, we know that over time, we're going to get to a great, great place. You know, trusting that is a big part of the psychological and emotional journey of starting something like this. And the reason I tell you that backstory is that, you may not know that guy, Tom, that we went to college with, is a Chinese food freak. But his wife hates Chinese food. They have an eight-year-old boy that he takes to any Chinese restaurant he can to kind of inculcate him on the ways of overeating bad Chinese food. And they went to one in Oxford, just as we were finishing the bottle, and got a fortune cookie that he immediately texted to me and Shante Harlow, our second partner. It's an Eastern aphorism, and its Faith is the bird that feels the light and sings while the dawn is still dark. It's about three overanalytical guys learning to trust our instincts a little bit more. And I like to tell that part of the story because there are a ton of details, and I've gone through a lot of them today. But none of them are possible or mean anything unless all three of us are willing to take this jump.
Meb: So many of these journeys, we've talked to so many entrepreneurs on this show, and are imbued with so much serendipity of, I mean, look, there's no harder job on the planet than a being an entrepreneur. The agony and the ecstasy, the good times and the bad. I'm consistently astonished by the people that build some of these companies and ideas. Like, in your case, like, just willed them into existence, starting from a baseline of zero. And so, it's always so fun to hear about, like, the little moments of pain, and success, and everything, the blood, sweat, and tears involved.
A couple of more questions and we're going to start to wind down. So, as you look to the horizon, you know, you talk about building out the business, doing a fundraise. Gin has a long history, particularly in Europe. Is that an area that you guys could see eventual expansion to? I know, oddly enough, the Spaniards, obviously the Brits, Northern Europeans drink a lot of gin. Is that in the cards one day?
Rob: Without question. I think you can make a mistake at the beginning of something like this and try to get into too many markets at once. But it's also clear to us after a good year-and-a-half of being in the market, COVID notwithstanding, that, the more sophisticated the market, both from a financial perspective, but also from a taste perspective, the better our gin does. And that immediately brings to mind, yes, the London's, right? I think there are 930 distilleries in the British Isles, right? It's just a massive part of the drinking and eating culture. Would we love an opportunity in Barcelona, or Paris, or given our rice base, we think there's a real opportunity in Asia, Tokyo, and Shanghai, etc. Getting from here to there, there's going to be some serendipity. There's going to be a lot of patience. That's convo to convo. But we really feel like that is a place that we will and absolutely need to play over the midterm to make it a success.
Meb: Japan is interesting. They would probably eat it up. They have one of the most developed sophisticated cocktail, sort of, places in the world. You go to some of these bars in Tokyo and elsewhere, and craft are combined into a level that is just astonishing. Give me your top three, Wonderbird ways to consume it. You mentioned Martini earlier. But what's Rob's favorite? Or you can tell me the team. What's y'all favorite pairings?
Rob: I will say this for anyone who's interested in really experiencing our gin appropriately for the first time, people are sitting here listening to this going, "I don't believe you" but try it neat, maybe slightly chilled. It doesn't have to be a bunch. We have worked hard at this. And I've sat in front of enough people who have never done this before and served them a little bit, slightly chilled, maybe with a lemon peel. That's a beautiful way to experience the spirit, just in its unadulterated form first. The reason that you do that is to sort of educate your palate for the cocktails that will follow. It's a pleasurable experience unto itself.
I would immediately try a martini. And, you know, there are a million ways to make martinis. Make it as you wish. Use a decent vermouth if you've got one. If you don't, then just use a washer vermouth. In Mississippi, the best vermouth that we can really get as Dolin, and that's fine. If you can go up from there, you know, please do. And like I said, with Dolin, I'm going to just leave a wash in the bottom of the glass, and then go ahead and shake my gin, cold, cold, cold, and pour it in there and add two olives. If you've got better quality stuff, either white vermouth, or if you want to use red vermouth, just don't use so much, because, again, you want to taste what we just talked about over the last hour. The Negroni is absolutely fantastic, if you're a Negroni fan. Just a phenomenal way to taste our gin but with a little bit of that kind of rounder sweetness from the Campari.
The other place that I tend to go, especially if your partner, or your wife, or whomever wants to kind of have a late Friday evening kind of cocktail, is a French 75, which includes, you know, would be a champagne or Prosecco combined with some soak in our gin. That can be a lovely way to go as well. But more than anything, Meb, what I tell people is, just don't add too much sugar because you secretly don't want to taste the gin underneath, which is what people do sometimes. This is a very approachable gin. We chose the juniper very carefully from Southern Italy. It's not so punchy and muscular. We want you to taste this stuff. So, however you tend to take it, take it that way, just don't pour too much.
Meb: If I had to characterize two liquors that if you were to contrast what most… I was laughing earlier as you were talking about, we didn't make this for the local college population because I'm like, "Dude, the local college population is buying the cheapest gin they can find." If I had to characterize the two liquors that when you had them in say your youth or university afterwards, that has the largest spectrum between the well and what's terrible, and like actually like what's pretty good, it's gin and tequila. I remember having like my first good tequila at like 30 something, I'm like, "This isn't… What is this?
Rob: Without question. Without question.
Meb: And I was always like, "What do you mean you can drink this neat?" This is like what you would drink if someone forced you under penalty to have.
Rob: And to your point, we get a version of that story multiple times a week where someone says, "Man, I got hammered in my grandmother's basement when I was 16 on some really bad stuff. And I've just never taken a sip of gin since." And I say, "I get it, will you please just smell this?" And then they smell, just smell our stuff. And they're like, "That's completely different." And then they taste it and they say, like you did, "Well, this is just a completely different experience. It's like apples to oranges."
Meb: What's the name from? Where'd you guys come up with Wonderbird? It's a great name.
Rob: Thank you so much. That was a tough one. Again, democracy of three. Meb, going to my previous life in LA as an entertainment lawyer, we were very careful that we didn't choose a name that could eventually get us into legal trouble. And there are so many liquors and so many beers and so many wines these days, finding something unique is hard, and something that's sufficiently unique. We came up with a couple of things that we loved but there were other distilleries that had products that were too similarly named. And we were kind of driving each other crazy. We decided to take a month off. And I went over to one of the guys house to pick up a set of keys and I saw a "Birds of Mississippi" textbook on his coffee table. And I said, "Are you studying birds for the name?" And he said, "Yeah." And I said, "I am too." And I had independently been going to the Ole Miss library and studying like the migratory patterns of the birds that come through Mississippi between Canada and Mexico.
And when we saw birds, it's birds are the thing, you know, and obviously a symbol of restart and, you know, new hope and all that stuff for a very long time. Wonderbird emanated out of that. It's supposed to evoke that feeling just, "Hey, we're all here for a short time. Let's try to enjoy it." You know, we say on the bottle, "This is our wonder bird. We hope it can help you find yours." It's supposed to just be good vibes.
Meb: What's been the most memorable moment of this journey? I'm sure there's a thousand. You mentioned scraping the sides of the walls as you guys burn the first product. Anything that comes to mind being particular moment that's seared into your brain.
Rob: I mentioned that we got, there's an amazing chef down in the Mississippi Delta that brought us up to beer house, which is for people that aren't totally up with this kind of thing. One of the holy grails of the food and bev world and people wait their whole lives just to go to dinners there. And it's at this townhouse in the East Village or West Village. That was an amazing moment for the three of us to look each other in the face and sort of say, "If this never goes anywhere else, we got to present the gin at Beard House to a very, very complimentary crowd of people that really know their stuff and say, 'Man, you guys did this the right way and the hard way, and you come out with a great product.'" That was a killer moment for us.
Where we are now, Meb, and everything I've talked to you about today, this is really what we've been working for four years. So, when you say, like, this moment now where we're raising money to turn this from a concept into a true growth company and take our shot, shoot our shot, this is an incredible time for us. We're all three feeling super excited coming out of COVID ready to get on the field.
Meb: Where do people go if they want to buy some hooch, they want to come see you, they want to invest? What are all the best places?
Rob: First thing first, please, wonderbirdspirits.com will get you to our website that you'll learn a little bit more about us. We worked with a documentarian from Ole Miss last fall to put together a little two-minute video that does a very good job of introducing, you know, some visuals around some of the things I told you guys today. Please go ahead and check that out. I gave you my email. That's rob@wonderbirdsspirits. Please follow us on Instagram @Wonderbirdspirits. On our website, you can buy directly from us. But the other thing I oftentimes ask people in different locations is if you've got a good relationship with a local liquor store, please tell them the story you heard today and we'll get a call from them, and we'll try to get the gin to them, because that's a very important outlet for us as well.
Meb: Rob, it's been so much fun. I got to wait a few more hours before I have a Wonderbird and tonic maybe this afternoon. It's a little too early. But thanks so much for joining us today.
Rob: Meb, thank you so much. And I want to send a bottle this Magnolia out there just so you can have that as well.
Meb: Podcast listeners, we'll post show notes to today's conversation at mebfaber.com/podcast. If you love the show, if you hate it, shoot us feedback at feedback@themebfabershow.com. We love to read the reviews. Please review us on iTunes and subscribe to the show anywhere good podcasts are found. Thanks for listening, friends, and good investing.