Episode #336: Startup Series – Hugh Thomas, Ugly Drinks, "This Is The Result Of Two 23-Year Olds In A Pub In London Having A Couple Of Beers"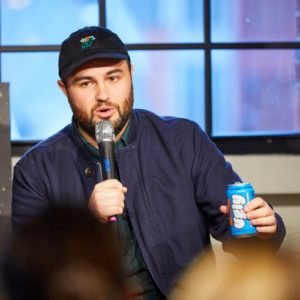 Guest: Hugh Thomas is the co-founder and CEO of Ugly Drinks. Use code UGLYMEB for 20% off your order. 
Date Recorded: 7/7/2021     |     Run-Time: 46:02
---
Summary: In today's episode, we hear how Hugh fell in love with the beverage industry so much that he started a company to provide people with a healthy drink at an affordable price. What started with him walking around London to sell drinks one store at a time has now reached over 15,000 stores around the globe! Hugh shares the story of the brand and marketing with the 'ugly' name, why there's such a need for a healthy drink in the market, and what it was like to embrace direct-to-consumer during COVID.
As a special offer for listeners of the show, visit uglydrinks.com and use the code UGLYMEB to get 20% off your order.
---
Sponsor: The Idea Farm gives you access to over $100,000 worth of investing research, the kind usually read by only the world's largest institutions, funds, and money managers. Join today and get access to quarterly CAPE ratios, an excel quant backtester and the entire research library. And best of all, there's a 30-day free trial period.

---
Comments or suggestions? Email us Feedback@TheMebFaberShow.com or call us to leave a voicemail at 323 834 9159
Interested in sponsoring an episode? Email Justin at jb@cambriainvestments.com
Links from the Episode:
Sponsor – The Idea Farm
2:00 – Intro – Visit uglydrinks.com and use the code UglyMeb to get 20% off your order
3:03 – Welcome to our guest, Hugh Thomas
4:39 – His career in the beverage industry
10:21 – What inspired Hugh to start Ugly Drinks and how he started making the first samples
13:20 – Ugly Drink's first flavor and how it was received by the public
14:18 – Learning the health and safety regulations side of the business
16:35 – How he built out the sale channels for the company
19:18 – Deciding on flavor profiles and building unique takes on classics
21:28 – Caffeinated options and direct-to-door delivery
23:00 – The origin story of the name
27:35 – Distribution through brick and mortar stores in the US
29:19 – Direct-to-consumer, retail and eCommerce growth
31:05 – What the past year of the pandemic has been like for Hugh
33:31 – Concerns about the environmental impact of aluminum cans
35:29 – Mocktails and thoughts on stepping into the cocktail game
37:00 – Plans for the future and raising Series A funding
38:56 – What they're planning for Ugly as they look out to the horizon
40:07 – Some of the weirdest flavor requests they've had to date
41:17 – The most memorable part of Hugh's journey
42:13 – Learn more about Hugh; uglydrinks.com; Instagram, Twitter and TikTok @uglydrinks; Hugh on LinkedIn, Twitter, Instagram; @uglyhugh
---
Transcript of Episode 336:
Sponsor Message: Today's episode is sponsored by The Idea Farm, my own private, curated research service that gives investors access to research reports often used by the world's largest institutions, funds, and money managers. These reports come from some of the most respected shops in investing, many of them costing thousands of dollars. We also send our favorite investing podcasts from the past week, and so you can be sure to only listen to the best of the best. Also included in the subscription, we send out our quarterly valuation updates like the CAPE ratio, so you can see which countries appear to be the cheapest for new investment dollars in the stock markets all around the world. We also have the Quant backtester, which allows you to evaluate various strategic and asset allocation strategies going back in time. So all this can be yours with a subscription to The Idea Farm, and best of all, you can try it out for a free, no-risk 30-day trial. Are you ready for an investing edge? Visit theideafarm.com to learn more.
Welcome Message: Welcome to the "Meb Faber Show" where the focus is on helping you grow and preserve your wealth. Join us as we discuss the craft of investing and uncover new and profitable ideas, all to help you grow wealthier and wiser. Better investing starts here.
Disclaimer: Meb Faber is the co-founder and chief investment officer at Cambria Investment Management. Due to industry regulations, he will not discuss any of Cambria's funds on this podcast. All opinions expressed by podcast participants are solely their own opinions and do not reflect the opinion of Cambria Investment Management or its affiliates. For more information, visit cambriainvestments.com.
Meb: Welcome, podcast listeners. Today we have another episode on our podcast Founder Series where we invite kick-ass entrepreneurs to chat about their experiences from the front lines of starting a company. We cover everything from newly minted startups still struggling to make it out of their garage all the way to the elusive unicorns that are either transforming traditional business sectors with innovative ideas or creating entirely new ones through cutting-edge technologies. Either way, the result will be total catastrophic failure and bankruptcy or hundreds of millions of dollars of revenue and a valuation worth north of a billion dollars. Listen in to hear the tales of blood, sweat, and tears as these founders tried to change the world. As a disclosure reminder, I've invested in most if not all of these startups and will look to invest more as they continue their startup journey. Please enjoy the next episode on our Founder Series.
Meb: What's up, y'all, we got an effervescent show for you today. You've definitely heard or seen this brand before as I drink their water in almost every episode over the past year. Our guest is the founder of Ugly Drinks, a beverage company that makes drinks with no sugar, no sweetener, no calories, and is trying to expose the ugly truth about big beverage. In today's episode, we hear our guest fell in love with the beverage industry so much he started a company to provide people with a healthy drink at an affordable price. What started out with our guests walking around London to sell water one store at a time has now reached over 15,000 stores around the globe. Our guest shares the story of the brand and marketing with the Ugly name, why there's such a need for a healthy drink on the market, and what it was like to embrace direct-to-consumer during COVID.
As a special offer for listeners to the show, visit uglydrinks.com and use the code UGLYMEB to get 20% off your order. Again, that's uglydrinks.com, and use the code UGLYMEB for 20% off your order. I promise you'll love these waters. Please enjoy this episode with Ugly Drinks' Hugh Thomas. Hugh, welcome to the show.
Hugh: Meb, thanks for having me. It's a pleasure to be here.
Meb: Where do we find you today?
Hugh: So, despite the accent, I'm in the U.S. I live here in New York, in Brooklyn. Been here about four years. Yeah, it's nice to be chatting to you.
Meb: You are transformed into a hipster, you got a beard already, I imagine drinking a $10 coffee. I love Brooklyn. I miss New York. I can't complain about the coffee prices, I live in L.A., so. When's the last time you've been home to the U.K.?
Hugh: Actually, because of COVID, I've not been back in almost two years at this point. So hopefully they lift some of these restrictions in the next month or so I will be able to get back and see some family and friends. But I think I've been here in my apartment running Ugly for the last 18 months at this point like many people I'm sure listening or watching.
Meb: So we've been badgering to get you guys on the show. You guys fit into a category for investors of what I kind of call the Peter Lynch method of picking stocks. And you don't know this but I'm a quant. So everything I do is computer-based with the exception of product companies I tend to love and there's only been about a dozen of these. And I'll put you in the same category back in the day of Lyft, Impossible Foods, HotelTonight. And now Ugly Drinks, so you're in good company. In prep for the show, I have a…what do we have today? I got the orange soda, listeners, and I got a cherry, and we'll talk all about this. Longtime listeners probably have seen me crack these during many a podcast and think I'm just crushing beers for the last few years because, you know, the can is striking, but it's actually sparkling water, y'all. All right, let's hear about your origin story. You started off in the coconut water world or something like that. Give us a little rewind.
Hugh: Yeah, so obviously, grew up in the U.K. When I was a student at university, I was the Vitamin Water guy. So you got…you remember the brand, the colorful liquids for 50 Cent that sold to Coca-Cola. When I was 18, I was the guy with an apartment full of Vitamin Water drinks. Like, I had a couch made out of the Vitamin Water cases that were delivered to my apartment. So that was my first slight foray into beverage and that's when I fell in love with it. I was attending parties, giving out drinks at halftime at college sports events. I was giving out drinks in university libraries when people were revising for and studying for exams. And I just fell in love with the number of touch points.
And then when I left university, I went to work in a big CPG. So I worked for Heinz ketchup. I was in the European marketing team there, which is obviously a huge brand, I learned a lot about how big business runs all of the processes, the way they use data. But obviously, being young and entrepreneurial, I was frustrated by that. Didn't have a beard at that time either. I was actually very clean-shaven and wore a suit to work. I'm now very different to that. Learned a huge amount but working in a big company, wanted to get rid of some of the process that I felt was stifling me. And now ironically, I'm trying to introduce most of that process back to our startup.
So I left Heinz to join an upstart beverage company called Vita Coco, the coconut water business. And Vita Coco was exploding here in the U.S. and then was launching in Europe and the Middle East. So I was the first marketing hire there, I was in a team of four people in a tiny office in London. We grew that business from less than half a million revenue to $50 million revenue in the 4 years I was there. We launched in 45-plus markets across Europe, the Middle East, we launched in South Africa, we launched all across Western Europe, all across the U.K. We went as far east as Pakistan and lots of different markets where we took coconut water to. And I was lucky enough to spend time not only in those markets but also visiting New York's head office here. And then also I was lucky enough to go to Tokyo and see the brand launch in Japan as well.
So I really kind of saw what it meant to be part of a global drinks company, and I fell in love with it. I love beverage. I love the way when you hold a can or a bottle, it says so much about you. And I love the way working in that team felt like being on a sports team. Everybody has a different position, you have to have a balance of EQ and IQ in beverage. Not everyone can manage the books and do the accounting. And not everyone can walk into a store in the Bronx and sell a case of coconut water to a store manager. So you need to have a blend of personalities and a blend of characteristics with the same kind of cultural DNA, and I found that fascinating.
And then I guess the last part of the origin story of Ugly is that I began to be really aware of sugar and sweetener in beverage and how big of an issue it is. My mom is a diabetic nurse back in the U.K. and she always taught me you are what you drink as much as what you eat. And how many of the patients she was seeing who were newly diagnosed with Type 2 diabetes were because of overconsumption of hidden sugars, and in particular in soda. And I looked into it, and I was like the size of these markets is so big. In the U.S., it's a $90 billion soda market. In the U.K., it's almost a $10 billion soda market. And that's just two countries. I mean, you look at places like Mexico, the capita consumption of soda products is off the scale.
And I looked at it and everybody was talking about health being a trend. And you actually realize that obesity and people being overweight percentages have increased since the '70s like in an insane number. I think in the U.K., 6% of people are obese in 1976 and in 2016, it's more like 30%, 20% of 12-year-olds in the U.K. are now obese. And it's just you look at these things and everybody's talking about investing in healthy food and drink and natural food and drink. And I just felt so many of those things are expensive. So many healthy products are 5 bucks, 10 bucks, 5 pounds to buy, available in Santa Monica, Manhattan, and London. And reality, people are regular people working hard for their money, choosing products that they can afford. Certainly, over the last 12 months, people have really been squeezed on their income. They need to make healthy switches that are affordable and accessible. And they want to buy from brands that speak to them like regular people.
And so I became obsessed with this idea of taking on big soda with a brand that was healthy but positioned like a soda. And spoke to people like it was your friend and didn't tell you you needed to go and do yoga and Pilates and drink a green juice to be healthy. You can drink sparkling water and drink more water and get rid of 40 grams of sugar from a soda every time you swap a can out. That was, kind of, the real driving force. And every day when I wake up now I'm thinking about how we slowly introduce more consumers to water and get people drinking water because it's fun and refreshing versus drinking soda, and so that's what I'm motivated by.
Meb: That's funny. I mean if you think back in the U.S. when I was growing up, used to have this food pyramid where at the bottom was like you need to get 10 servings a day of pasta and bread and like grains. And hey, as a wheat farmer, I'm okay with that, but as someone who understands a little bit about nutrition, that's probably the inverse of what you want it to be. And knowledge compounds over time, we learned some things. I grew up drinking soda. I mean, my God, I remember even being in college and I would put down like six Diet Cherry Vanilla Dr. Peppers a day when I was interning. And people would be like, "Meb, but you know that diet's no better for you." I'm like, "Look, I'm very aware. I just love…I think I love the bubbles and I love that there's a different taste than the water and, of course, spring loads of caffeine." Anyway.
So okay, you came up with this idea, you're like, "Look, this space, it's so obvious." I mean, it's one of these things that's just like, "Look, in the future, you're not going to be drinking the sugary drinks. It's epidemic, certainly here as well as elsewhere." But what gave you, sort of, the chutzpah, I don't know, inspiration of saying, "Maybe I can make my own drink?" And how did you start doing it? Are you just in your kitchen starting to experiment? How did it even get started?
Hugh: No, that's crazy looking back. I mean, I was 23 at the time in a small apartment sharing with other people in London, still in a full-time job. Had this idea and flavored sparkling water existed in the U.S., but there's no one doing it in a can in Europe. And obviously, I was always ambitious about going global with this, which eventually brought us here. I started with the first thing I did, which is a hack I always tell new entrepreneurs, we're setting up a fake domain name and having an email address that wasn't my Hotmail or Gmail. Because I was finding people weren't replying to my Hugh Thomas whatever embarrassing Hotmail address that I'd created when I was 15 or something like that.
Meb: It's funny you mentioned that because, like, there's an element now where if you're marketing to a specific demographic, aka older, wealthy people, you actually want the AOL addresses, I think because it identifies as being somebody who is old and probably has a lot of money. Anyway, keep going.
Hugh: I was emailing factories and co-packer investors, and I was CEO of whatever holding company we created at the time and that started to open doors for us. So people felt we're serious that I was the CEO of a company, even though I was sat in my bedroom in London. And just started using Google to understand how to start a company. Like very simply, I had no idea what I was doing. Everything's been joining the dots and self-taught all the way through.
Obviously, I had a bit of experience in beverage when I was young. I thought I knew what I was doing, but figured out, started batching up drink, started experimenting with products started learning about food science and complexity of co-packing. Then realized the minimum order quantities of making products like this, which was like, oh, okay, I don't have that much money to produce that much product. Which is my first experience of understanding the need to raise capital and Ugly is the result of guys in their early 20s learning as we're going.
So there's a lot of mistakes we've made along this process. But we've also learned from a lot of our mistakes. And one of the things we always talk about is being stoic. And there's a book by Ryan Holiday, "The Obstacle Is The Way." And any of those mistakes long-term ultimately turned out to be things that have taken the business in the direction we're in now. So yes, it's been a wild journey, started initially, very first production run, did a small family and friends funding round, kind of people my dad played golf with, uncles and aunties, everybody put a small amount of money and we didn't rise much at all, did a production run. And then it was a case of walking around central London knocking on doors trying to sell drinks, and that's where it started. And today, we're in 15,000 stores around the world. And I've sold online everywhere but…
Meb: What was the first flavor, do you remember?
Hugh: So we did a range, we did a lemon-lime and we did a tropical-flavored grapefruit and pineapple drink in the U.K. And we launched that into Selfridges, which is the big department store in central London, which is our very first stop shop. So not a bad place to launch. They have a food hall there. And we literally walked into the office in the building, knocked on the door and dropped samples off to get that listing, there was no magic behind, it was as much of a hustle as that. And when we first launched in that store, we did demos, we did samplings in-store every day.
And we actually met our first bigger investors doing that demo. They were walking through the food hall on a lunch break, saw us pitching it, didn't tell us who they were, and then we got an email a couple of weeks later, and now they've been our lead investor until today. So you never know. There are moments of serendipity and within the business, did we get lucky or do we create our own luck? I mean, who knows? But that's how we started, really.
Meb: So how does one go about…I mean, the nice part about you as a founder is you've kind of been through it a little bit. You cut your teeth with some Vitamin Water, hanging out with 50 in the club, a little bit the coco drinks, which used to be my favorite, coconut water. I think that was the best of the lot.
Hugh: Yeah, I still like it.
Meb: How does one even go about starting to create some of these? Like, I assume there's some pretty significant regulatory quality control situations where you're like, "Yeah, I just raised a friend and family and started selling soda." But it sounds a lot simpler than it probably was.
Hugh: I think with some food and drink brands, you can maybe produce it in your kitchen with some health and safety regulatory stuff and make some jars of peanut butter or chutney or jam or whatever you're going to take down to the local farmers' market. When you're talking about cans of beverage, it's a lot more scientific, obviously. And I didn't have a full canning line built in my apartment. So the first step for us was finding someone who had one of those canning lines. A lot of co-packers basically said, "No, we don't want to work with you guys, two 23-year-olds," me and my co-founder, Joe. "Two 23-year-olds knocking on our door, you've never done this before."
Fun fact is we now work with all these co-packers, so now they've changed their mind four or five years later. But at the time, it was like who's going to work with us who can make this for us? Eventually found a small co-packer, convinced them to work with us, ordered the first batch of cans, had to pay upfront for half the product, which was painful, like using a lot of that investor's money. And then we had a warehouse full of drinks and looked at each other and said, "Well, better sell this then." And it's one of the reasons we started selling online so early was that we had a pretty good Instagram account early on, just naturally telling the story through Instagram.
And we had people across the U.K. finding us and realizing they had a zero sugar alternative to sodas that they could order. And so we said, "Well, let's set up a Shopify site." This is in 2016, '15, '16. So in the last 12 months, everybody's selling B2C, but at the time, I think it was just mattresses and razor blades being sold direct-to-consumer. But we felt we could bring that to beverage. And we just started building out from their one store at a time, one customer at a time online. And eventually kind of really built up some momentum to kind of rebrand, introduce more flavors, and then raise capital to expand the business.
Meb: I was trying to figure out how I came across you guys. And I know I was tweeting about y'all and some of these other products that I like, food and kind of cooking genre. And I think the original way I ended up buying some of your drinks was through Amazon. And then now you can just buy them from your website, which I don't think was always the case. Can you give listeners a little example of how you built out…? Because it seems strange, I think, for a lot of people to be like, "Hey, I'm going to buy sparkling water online." But we get it at the office where we'll get like eight cases that come into the office, so.
Hugh: Yeah, you guys are good customers. Yeah. So for me, when I first moved to the U.S., in particular, I'd walk around a grocery store and you'd see people kind of putting cases and cases of sparkling water in the trunks of their car. When I first moved to New York, I realized that if you live in a fifth-floor walkup in Manhattan, the idea of carrying 48 cans of seltzer up five stories is not that exciting. So is there a world in which you just set and forget and subscribe for your office or your home, yourself, to delivery? I mean, it's something that everyone in the family drinks, you want to load up the fridge, it's not overly expensive. And you just want people to drink cans and cans a day, right like, you do in your office. Once it's there, people enjoy it. It's not bad for anyone.
And so that's why we really decided to introduce the direct-to-consumer offering. And we've added to it as we go. And now one of the interesting things we do is offer unique flavors just to that community. So if you're signed on to our mailing list or our text message list, you'll get early access to the flavor of the month and we create a new flavor every single month on our website. Today, we just announced our butterscotch flavor of sparkling water, which has gone live this afternoon. And it will sell out in the next couple of days. We've done cherry cola, we've done marshmallow, we've done a root beer flavored, grape soda, all zero sugar, zero sweetness.
And it just what it's done for us is create this amazing community of people that come to us directly, get our emails, they reply, we have interactions with them. We actually crowd source some of these flavors, too. So we asked our fans what flavors they wanted to see from us and we've made them. So actually listening, we're having a different relationship. And that's very different to the feedback process that if we were to put this product, which we do as well, but in stores, it's very hard to talk one-to-one with someone who's picked up your case and really understand why they did it, what they like about it, which flavors they'd like to see from us next.
And so direct-to-consumer has been kind of a big core in terms of building our community and getting the word out there, which is how we're having this conversation is finding us online, meeting. I mean, the fact we're on this call and I started this in my apartment in London, kind of, five years ago is bizarre. The internet has made this happen, right. And so we've been leaning on the internet ever since we started the business.
Meb: Well, I'm not going to lie, the butterscotch sounds absolutely atrocious. But we'll try it. We'll definitely get it. I didn't even know subscription was a choice. We'll definitely get signed up. Grape soda, oh man, that's sold out. That sounds like something…new grape. I remember drinking new grape as a kid. Marshmallow, root beer, all right, you're going to have to put my request. You officially get to put my request, the diet…it's not diet, so it'd be cherry vanilla Dr. Ugly. I know you got the Dr. Ugly, but the cherry vanilla, that's Meb's request.
Hugh: I just got my pen out and I've written it down here.
Meb: Yeah, well, it'll probably be less popular than the butterscotch. That's cool because, like, it gives it an element. Like, how do you guys…like, is this, like, international flavors? Is there a company where you're just like, "Look, we want this specific flavor profile?" And they're just like, snap their fingers and like, we got that in the queue. They're like, "Dude, we could come up with anything you possibly want."
Hugh: Yeah, we went with lots of different partners to do that. I mean, the idea center is within our community. So we'll ask our fans what they want. And they're never saying tangerine or passionfruit. It's always ideas like you just had, Cherry Vanilla Dr. Ugly. You probably miss that flavor that you had when you were younger that you know that it's probably not something you can have six cans a day of anymore. But if we made something that tasted pretty close and was healthy, you'd be into it. So when we go to those flavor houses, we're saying we want to take Meb back to being that age when he had six cans a day. So this is the flavor we're going after. This is the memory that when you taste it, taste and memory are so interlinked. We want to take someone back and give them permission to enjoy that thing again.
So I'm drinking the fruit punch now, and we took the Hawaiian fruit punch flavor and we said, "Match this as close as you can." And now this is like drinking a zero-sugar, zero-sweetener natural fruit punch drink, it tastes just like it and it's delicious. So that's how we do it. They send us back lots of little bottles. Now we're doing it at home, not in the laboratory anymore because of COVID. We do on Zoom, we all have our bottles laid out. We do proper sampling like we're sommeliers with a spit bucket and things like that, and write our notes down and work with them and collaborate. And that's how we've created such amazing products.
Meb: The fruit punch is interesting. I mean, I remember being a kid, I was going to camp in North Carolina, Camp Seagull, Camp Morehead, shout out, I don't think Morehead exists anymore. But every day for lunch and dinner, the kids essentially had Kool-Aid. Like my, God, you'd probably get arrested for giving people that this day and age. But that's the nostalgia, exactly what you're talking about, the fruit punch, sort of, orange soda, Sunkist, takes me back. The one soda that I still allow myself, and longtime listeners know because I call it my redneck Red Bull, is Diet Mountain Dew. I'll still treat myself anytime I'm on a road trip and podcasting, Diet Mountain Dew gives me the caffeine I need.
Hugh: Well, we've just launched an energy water, which is 160 milligrams of caffeine, looks a little like this. And we have a Mountain Dew flavor called Mountain Ugly, zero sugar, zero sweetener.
Meb: So what's the equivalent? Is that when you say…how many grams, 160, is that like a cup of coffee? Is that like five cups of coffee?
Hugh: It's a 16-ounce can, so it's like 2 cups of coffee basically in the can. You'll really feel it.
Meb: I'll try, we definitely have those in the office. And it's good you distinguish it because it's got a different color. So I'll try it later when I'm dragging. You must be universally loathed by delivery men everywhere. Now it's offloaded the someone being at the Whole Foods to all of a sudden just showing up on your door.
Hugh: No, I'm sure there are some delivery drivers that don't like it, and others may be getting bigger biceps by the week.
Meb: Yeah, that's a good point. They just offload their workout.
Hugh: Yeah, exactly.
Meb: What's the origin story on the name? I mean, you clearly have done a really good job on the marketing and the branding. It's a very distinct…I've had a lot of people, again, ask me, "What are you drinking?" Was this it from day one? Was this like an A/B test of 20 different names? How'd you guys come up with it?
Hugh: No. And I think this is the result of two 23-year-olds in a pub in London having a couple of beers. Let's be honest. That's the magic, and branding and marketing is science and art. And sometimes there's a little bit of inspiration. And I'll tell you about that. And for us, we wanted to create a brand that took on the status quo. We knew the big companies would never do truly disruptive marketing, they don't want to take that risk.
And we were coming up with this brand around the same time that the phrase "fake news" and "alternative facts" was introduced. And it felt, for me, like there were a lot of similarities between, kind of, that concept and looking at big soda marketing, the Olympics or the Soccer World Cup and sponsoring grassroots soccer like they do in the U.K. And I just felt that you can have taglines about making people happy, making people beautiful, but if you're loading them up with 45 grams of sugar, you're not really doing that. So I wanted to build a brand around telling the truth and being transparent and we have this idea around telling the ugly truth.
And there's a quote from George Orwell in the book "1984," which is, "In a time of universal deceit, telling the truth is a revolutionary act." And that quote, for me, was like a light bulb where it's like going into this next decade into the 2020s, the internet is going to democratize everything, people can find out what's bad for them, find out the ingredients. The big soda companies have marketed down people's throats spending all their money over the last 100 years telling them that soda makes you happy and soda equals happiness. And I just wanted to tell it as it is. This is flavored sparkling water, no sugar, no sweetener, no false promises, no marketing gimmicks, and that's what it is. And that's what we've been trying to do ever since then.
And so people have really resonated with it. I don't know if you know Seth Godin's purple cow story where you're on a train going past fields and fields of cows and one of the cows is painted purple. And someone asks you after the train journey, "What do you remember about the field of cows?" You're going to remember the purple cow. So Ugly is a purple cow. When you go to a beverage fridge in the U.S., some of the stores here are so big, you have thousands of cans on the shelf, what are you going to remember? What are you going to take away?
We're a small company, so every time our package is on the shelf, it has to work for us. It has to capture people's imagination and stimulate someone picking it up, exploring it, maybe trying it for the first time. And so for us being called Ugly, and with the bright, vivid colors that we have on the packaging, it just opens that up. And then people fall in love with the honesty, the transparency, the fact we don't take ourselves too seriously, and just the sense of fun we have around the brand.
The other thing we do is we also use bright colors and cartoon characters. So you won't see my face on the website or my signature on the can telling people to get healthy. We use cartoon characters, we use street art style to really be subversive and communicate things in a really interesting way to consumers that feels approachable. And so kind of those two things together takes that quite hard name of Ugly and really softens it to a way that people find charming and fun rather than aggressive and in your face.
Meb: Rolling Stones coming after you guys for the tongue trademark, or what?
Hugh: I mean, if Mick Jagger wants to sue me, he knows where to find me. I'm the biggest fan. So hopefully he'll give us a break. But lots of people have used tongues in marketing over the years, so I don't think we're the first, and it's actually the U of the Ugly anyway, so.
Meb: Well, you've seen a major trend over the past decade of…you saw this with 50. I think ' a perfect example of celebrities, athletes, singer-songwriters, musicians, actors becoming business people. And so in some cases, it's just your ability to market and branding. But in other cases, it's funding. And so half the time on the cap tables now, you see NAS, or Kevin Durant, or George Clooney, or Joe Montana, on and on. And I think maybe 20 years ago, it was a signal in the opposite direction where you saw somebody like that in cap table, like, "Oh, god, this is going to be a disaster."
Now, I think it's a signal in the opposite direction more often than not that a lot of these investors are extremely savvy. And if you look at dozens and dozens of examples, they've made way more money in business and investing than they have as their actual career. So, Mick, if you're listening, let's get you on the cap table for Ugly Drinks. You guys can do a collaboration.
Hugh: I'd love that, the dream investor, and my mom could meet him, I think that'd be the best thing I could ever give her.
Meb: Perfect. So you guys had some big news, right? You are starting to roll out in the U.S. through some brick-and-mortar stores. Tell us a little bit about it.
Hugh: Yeah, so one of the things last year was when we launched some of these limited-edition flavors that we just spoke about, some of them sold so quickly we had big retailers starting to reach out for some of them. So one of those was CVS was one of the first retailers. We actually launched into 6,500 CVS stores last week here in the U.S. So you can find us pretty much in every CVS in the country. We have a store locator on our website, if anyone's listening and wants to check it out and it will tell you your nearest store stocking Ugly. And it's the first stage for us in terms of really taking these products that we've been refining and honing with our community to mainstream retail, which is always the goal.
Because as you'll have heard, the mission we started with was to really take on soda and give people a healthy alternative. And the best way to do that is to be available and to be available in stores where regular Americans and people earning their hard-earned money shop. And that's why CVS was one of the first to come to us. But now we're beginning to really roll out beyond that. We've launched another 4,000 stores in the next month. And you hopefully will start to see Ugly popping up in a store near you as we expand over the next couple of years with more flavors, more products, more formats.
But really now having built our core base of consumers online, we've got the feedback, we refined the packaging, we refined the liquids, we learned, we talked to them. And then the big retailers have come to us, in CVS's case, and said, "We want to put you in a huge chunk of our stores out the gate." And very honored to be in that position where most people probably live, I don't know, within 30 minutes driving of a CVS store. So anyone who wants to give us a go can go and find it. And that feels pretty cool, to be honest, coming from where we've come from.
Meb: We got one directly across the street from my office, I'll take a picture and give you a shout out, see what flavors they got. So what's the composition look like for you guys? I mean, is it…and I'm sure it's changed over time but as far as direct-to-consumer, as far as retails, sort of, third party, how's that, sort of, pie look? Is there a preference? I imagine direct-to-consumer has the highest margins but not as much reach. What's it look like?
Hugh: Yeah, so obviously last 12 months has been a bit warped with coronavirus, meaning a lot of people are at home and buying online. So we had a really strong year with our B2C and Amazon business. They both, the U.K. and the U.S. both grew over 500% year on year last year, so much faster than we were expecting to grow. And now we're seeing retail really start to recover. Predominantly, we'll be about 80% of our business will be retail this year. E-com is very strong for us. We've done a lot of work on that. But the scale of retail, particularly in this country, is so big that the number of accounts, number of cases you can sell through that channel is significant.
So we're all about availability, we're truly omnichannel, people discover products in lots of different ways. I'm sure, Meb yourself, I mean, you've probably bought products on Amazon on DTC and in retail in the last couple of months. And consumers are no different. So for us, our business strategy is consumer-centric. Where a consumer is discovering products, is it when they're watching TV and scrolling on Instagram? Is it when they're on Amazon looking for something, or is it when they're in the local grocery store?
And ultimately, we came to the conclusion that all those channels are interlinked. As you did, you discovered us on Amazon and then move to DTC. Some people will discover us on DTC and find us in CVS, and vice versa. So we're trying to make sure we're accessible, much like a can of soda. So that at that point of thirst, whether that's at home or out and about, we're available as an alternative to soda at a similar price point. So that's kind of what really drives us.
Meb: You talked about last year, what was that like? I imagined supply chain disruptions, you mentioned you can't go back across the pond, what's the last year been like for you guys?
Hugh: It's been very tough as it has been for many small businesses across the world. And I think at the time, there were so many unknowns. And it's easy to look back at hindsight now having ridden out the storm and have a different perspective on it. But at the time, we didn't really know what was happening, right. And in March last year, there was almost a wave of news, I think I remember at the time, it was going to be four weeks, it's going to be six weeks, and then we'll move on. And very quickly, I think I realized as CEO that this was going to be at least a 12-month challenge that's going to affect us across the world, our team immediately went fully remote.
And at that time, you're worrying about people's health, not only our own team but the health of society as well. And making sure that we're doing the right thing to protect everybody, not only our own employees but everyone. So immediately, you're in emergency mode, trying to protect everybody, then you start worrying about your business. We are a big business in foodservice, we sold a lot of product in offices across the world. And some of those channels are only just beginning to place orders again because the offices have been empty for 18 months. And so we had to react, we very quickly realized direct-to-consumer is going to be big for us. But we didn't want to ram adverts down people's throats whilst they were panicking about a global pandemic. And so we've tried to be sensible, tasteful, protect our team.
And we've also had lots of other societal issues come to the fore this year that have been conversations within our team where we're trying to learn and be better. You know, obviously, what's kind of gone on with Black Lives Matter over the last 12 months has been a big area for us to make sure we're doing the right things there. Diversity of staff and genders internally continues to be a big thing for us. And so we're always learning, always progressing with an international team. We had people in different positions in different places the whole time. We had some employees in states in the U.S. where coronavirus was treated very differently to some other cities and big urban areas. So at different stages, we've had people in different positions.
And as CEO, I've had to react and learn and understand that a blanket message wasn't necessarily right all the time and making sure everyone was safe and reacting to their environments. And understanding how everybody was has been a real learning curve for me as a leader. But I'm proud of how our team stuck together through everything. And hopefully now, touch wood, coming out the other side as a society, right, with the rollout of vaccines and things like that.
Meb: Yeah, the ESG angle, you know, it's interesting, we're talking about companies, but also their products. You guys certainly have a major societal benefit to the extent that people start substituting soda for drinks. Do you ever get any pushback about the angle from people…and like, I would probably be the use case here where you're like, hey, all of a sudden I'm drinking five of these a day. As far as aluminum cans, is that a consideration about environmental impact recycling?
I know aluminum tends to be one of the…and this reminds me, when I was a kid, my dad used to send me out the garage and we had like a sledgehammer, and it was my favorite thing to do, and I would crush all the cans. I mean, his were probably Coors Light or Coors Banquet beers, we were in Colorado, and take to the recycle machine. It was so much fun to put it and it was like this big, giant transformer-looking thing. And I would get, I don't know, $2 back or 50 cents back or something. What do you say, do you ever get those concerns? Or is it something that's ever mentioned?
Hugh: Yeah, no, I mean environment is a massive part of one of the reasons we're in aluminum cans in the first place. I mean, there's no single-use plastic in our U.S. supply chain. We made a huge effort to avoid that. Aluminum cans are infinitely recyclable. So you can repurpose a can an infinite number of times. The extraction process out of the earth, it definitely needs to be improved. And I know a lot of the aluminum companies now are looking at, kind of, carbon-neutral aluminum extraction. But in general, it's very easy to transport. It's very space-effective when it comes to transportation. Aluminum keeps products fresh for, in our case, 18 to 24 months, there's no UV light getting into the product, there's no oxygen getting into the product.
So in terms of, kind of, keeping things fresh for a long period of time, and something that's fully recyclable and transportable, aluminum is an amazing format, amazing product format. I think the thing that's being dated about aluminum is the liquids inside. And that's actually the biggest issue. And so you'll see aluminum water brands now instead of plastic bottles, which is a huge issue. And so for us, it's a step in the right direction. There are always things to be improved. If we can swap someone drinking a plastic bottle of water or a plastic bottle of soda for an aluminum can and pop it in recycling, and that's an improvement.
Meb: Yeah, I certainly was a La Croix guy before I became an Ugly guy. But I've successfully converted about half a dozen co-workers and family members, they come over and usually take a couple to go when they're leaving. And they're great with cocktails, by the way, this is a little secret, like, angle for you guys that you could start. I was chatting…we just did a podcast with a friend who has a boutique gin distillery in Mississippi, and it's actually made with rice. But as opposed to using one of these extremely sugary tonics, etc., you can come up with all sorts of cool flavors with Ugly. You guys going to start getting them into bars and restaurants too?
Hugh: There are so many usage occasions for seltzer. I mean, if you want a zero-calorie cocktail mixer, it's perfect. And yeah, you can mix it with a little bit of fruit juice if you wanted, you can mix it with pretty much anything you want. We've made a bunch of mocktails too if you're not drinking. And a lot of people when they're out in bars or at barbecues and they don't want to drink for whatever reason, chuck a few cases of Ugly in the cooler and no one knows that you're not drinking a beer, and they're kind of lots of flavors, lots of refreshment instead of drinking a bunch of lagers or even going beer then seltzer keeps you straight. So yeah, it's great in all sorts of occasions. We saw a bunch of people drinking over this July 4th weekend at barbecues and things like that.
Meb: We had it at our cooler on the beach, our annual brouhaha on the ocean. All right, so you guys are clearly firing on all cylinders. It's been a great growth story so far. What are the plans now? I imagine this is a very capital-intensive business. Are you still maxing out your credit cards, you guys looking to do more funding? How's that work?
Hugh: Yeah, and obviously, lots of my personal credit cards have been maxed out over time. But I think we've evolved from that place now. We're actually actively raising a Series A funding round right now to really grow this business to the next stage. We are in 15,000 stores globally now, we have trademarks around the world to expand this as we grow. And yeah, you can see last week launching into 6,500 CVS kind of stores is just the beginning for us in terms of the retail rollout, the number of flavors we'll be producing over the next 12 months, and learning with consumers more.
So it's just about expansion now for us, we have all the systems and supply chains, the team in place to grow this. And so fueled with the right partners and capital, there's no reason we can't really chip away at that $90 billion soda industry. There's so much space to go after. So that's kind of where we're at right now.
Meb: Good. Please CC me on your raise so I can squeeze in on the cap table. I promise I will be the smallest entry. But consumer product VCs that are listening, you guys can hit up Hugh on Twitter and elsewhere. You know what, every time I think about you guys, you're not going to know this, I'm assuming, but some of our older listeners will. There was a movie, I think it was "Wildcats," which is an old Goldie Hawn movie from the '80s. But they had a cheerleading scene, and you guys can google this, and they do a "you're ugly" chant. They say, "U-G-L-Y, you ain't got no alibi, you ugly." And they're just talking junk to the other team. The movie I remember being pleasantly average, but that chant stuck in my head. So again, there's another co-branding.
Hugh: Might be my new ringtone.
Meb: Yeah. It's so good. It's definitely on YouTube. All right, so fundraising, what's the horizon look like for you guys? What would that capital be used for? What are other things you guys got caught up your sleeve as you look to the future? Is it simply growth and getting into new channels? Or do you guys have some other ideas you're cooking up in the kitchen?
Hugh: Yeah, so we'll be building our team out. As we expand, we'll be launching in lots of different regions around the country. We launched in Los Angeles last month, we're launching in Portland this month. So every time we launch in a new market, we want to be hiring a team that can be out there introducing customers and consumers to Ugly. And so every time we do that, we're really supporting the team to make it work. We need to invest in marketing too. I mean the brand's in a great place with this list of creative ideas internally that's longer than a CVS receipt.
We have so many different concepts and different ideas that people are going to love, whether it's content, marketing ideas, new flavors. But for us, it's really about driving the core business into more retailers and making this as accessible as possible. Whether it's the big grocery stores or convenience stores or even new markets, we're going to try and make Ugly as excessive and as ubiquitous as anything we can. And that's kind of really where we're going to be spending the capital alongside building the team to help us to do that.
Meb: So we'll wind down with a couple more questions. What's been some of the weirdest flavor requests you guys have had? I mean, butterscotch is up there, but is there some where you're like, A, that's so weird we have to make it, or B, that's so weird, disgusting we could never ever make that?
Hugh: We've had peanut butter and jelly, Nashville hot chicken, cheese pizza. I did actually suggest we try to do, but it's not a great experience.
Meb: Oh, my God.
Hugh: The list goes on. I mean, anything you can imagine. I've even tasted a rain flavor. You know that when water hits hot tarmac in the summer, somebody created that flavor for us, a flavor house. And it was interesting, I'm not sure we'd sell a million cases of it. But yeah, there's so much excitement and flexibility with it. But we've had all sorts of stuff come in. And generally, I am like a big child so I'm also on the same page of I wonder what pizza-flavored water tastes like. So there's nothing too crazy for us to actually test out.
Meb: You just got to get the right pizza, you know, Hawaiian pizza maybe, or sausage and mushrooms, or fried egg on top. Listeners, hit you up Hugh on Twitter with your suggestions. He said he'll send you a free case if they use your suggestion. He said he promises.
Hugh: Yeah. Hold me to that, you can hold me to that.
Meb: What's been the most memorable part of this journey? It could be good. It could be bad. It could be in between. Is there anything that is like seared on your brain as something that you look back and you're like, that was a big one?
Hugh: I mean, for me, every time I've ever walked on the street in New York or London and seen someone drinking a can, or seeing a can in the garbage, in the litter, it blows my mind. Especially when you're just somewhere where you don't expect to see it. I generally will stop the person in the street and ask them how they found the brand. And that's always, to me, what blows my mind the most is when you see it in the trash or someone drinking it on the street. And every time I ever see that, I don't think it'll ever get old. And I know that's not some crazy experience. But for me, when someone spent their hard-earned money on a product we created in a bedroom in London, it's like it's pretty insane. So for me, that's always the thing. And hopefully, there's more of those come.
Meb: I mean, you guys even have the potential to have little Ugly gear, hats, shirts.
Hugh: It's coming.
Meb: I would wear one. Send me a hat when you guys make one. All right, Hugh, this has been super fun. If people want to buy some drinks, if they want to follow along with what y'all are up to, what's the best places to go?
Hugh: So if you go to uglydrinks.com, we've created a special code for listeners. So it's UGLYMEB, all in caps, U-G-L-Y-M-E-B, that will give you 20% off if you're in the UK or the U.S. on everything. You can follow us on Instagram, Twitter, Ugly Drinks, we're on TikTok as well, Ugly Drinks. And you can follow me, I'm UglyHugh pretty much everywhere on the internet. So if anybody wants to reach out you can find me on Twitter, LinkedIn, Instagram, drop me a DM, I'd love to hear from people. I always try and respond to everything that comes in. So we'd love to hear from you. And if you have any questions, the team at HelloUglyDrinks is always willing to help or can point you in the right direction for our business as well.
Meb: Hugh, it's been a blast. Thanks so much for joining us today.
Hugh: Of course. Thanks for having me.
Meb: Podcast listeners, we'll post show notes to today's conversation at mebfaber.com/podcast. If you love the show, if you hate it, shoot us feedback at feedback@themebfabershow.com. We love to read the reviews, please review us on iTunes and subscribe to the show anywhere good podcasts are found. Thanks for listening, friends, and good investing.