I gets lots of questions over email and in person on a handful of topics.  Usually I try to incorporate all of them into a longer written piece that includes my personal opinions and experiences that readers can then reference.  You can find some older ones here on the following topics:
Global Tactical Asset Allocation & Asset Allocation
Income Investing, Risk Parity, Bubbles, Pensions, Black Swans, and Valuing Global Stock Markets.
One of the themes I get a lot of questions on is the process of starting and managing an ETF.  We have somewhat of a unique perspective as a user, investor, sub-advisor, and advisor of ETFs.  I thought I would summarize all of the questions I get on a regular basis – if you have any more questions fire them over and I'll incorporate into the article.  But first, some background.
Separate Accounts
We started our firm in 2006 with lots of ideas, but no definite roadmap as to what structure would best suit our firm.  We began with separate accounts.  Separate accounts have numerous benefits, namely a) a relationship with the client, and b) ability to tailor the strategy to their particular risk tolerance or tax situation etc.  Those both can also be drawbacks of course, as client relationships can be time consuming and headache inducing.  However, they can also benefit the client as they have someone looking over their investments and potentially talking them off a ledge and doing silly things at the wrong times.  Raising assets through separate accounts is driven largely by relationships and marketing.  For an example, take a look at Fisher Investments, one of the all time great marketing companies via direct mail (and now in print and online).
We still do separate accounts but this is largely for high net worth investors where we can offer some personal touch.  Look for a big announcement here soon.
Hedge Funds
We launched two hedge funds back in 2009, largely for clients looking for more aggressive strategies that included leverage.  We closed the first one when we launched our first ETF, but still have two open, including an insurance dedicated fund for a family office.
ETFs
If an ETF launches with no assets and fails to raise any, you are probably on the hook for ~$150K in expenses per annum.  That is a lot of checks to write. Launching an ETF is very much like a rocket getting out of gravitational orbit, it needs an escape velocity of perhaps $30-$50 million to get profitability.  There also becomes a chicken and egg problem – ETFs with low assets and volume are often seen as orphans as larger investors have AUM and volume minimums, but the ETF cannot get larger without assets and volume.  This is why you have seen in the early 2000s about 80% of ETFs launch successfully, while in recent years that number is closer to 20%.  Unless you KNOW that an ETF can be seeded with, or raise enough assets to get to this $30-50M range quickly, it has a much higher chance of failure, especially now that there are so many products.  Some firms adopt the shotgun/VC approach, hoping a small number of very large ETFs will subsidize all of the small ones.  Other firms adopt a rifle approach with only their best ideas.  Both can succeed or fail.
Index Provider
We first considered launching an ETF with Claymore (now Guggenheim) when Forbes was looking to move into the ETF space.  Our launch date for "IVY" was 12/2008, talk about bad timing!  However this would constitute the first method of launching an ETF – as index provider.  Typically this is the least effort, you simply provide an index that updates/rebalances, but also the least rewarding monetarily.  Typically the index provider can earn as little as a few basis points on the low end, to perhaps 30 on the high end.  Lots of ETF companies will license an index if they think there is product demand.  The PowerShares Research Affiliates relationship is a good example of a very successful advisor/outside index provider.  Lots of companies will track indexes for a fee of $2,000 -$30,000 like Solactive, S&P, MSCI, NASDAQ, etc.
Sub Advisor
Subavisory is usually when a RIA that does not have, or want the SEC exemption to launch ETFs, partners with a company that does. The model is very similar to the publishing industry where a content provider parters with a firm to provide infrastructure support.  There are a number of players here including AdvisorShares, Exchange Traded Concepts, Alps, ETF Issuer Solutions, and Canvas.  If you are a manager looking to partner with one of these firms, they will send you a basic proforma that will ballpark most of the costs and profits as you raise (or don't) assets.
The economics are more favorable than index licensing (generally), but may also involve upfront fees ($0-100k) or exposure to monetary risk if the ETF does not raise assets.  Typically the subadvisor receives somewhere in the ballpark of 50-90% of the profits from the ETF, depending on other costs and risks taken.  
Other pros of subadvisory is not having to build the infrastructure that goes along with launching an ETF and the subsequent costs like board meetings, hiring a CCO, and other duties.  
Cons of subavsiory include loss of control over the product, revenue sharing, branding confusion, etc.
This option is usually a great choice for those who are looking to only launch one or two ETFs, and not have to deal with pursuing their own exemption.
Advisor/Sponsor (also more economics) –
You can find a full list of advisors here: http://etfdb.com/issuers/
You can find the list of advisors by AUM here:  http://www.etf.com/sections/etf-league-tables/21817-etf-league-table-as-of-april-15-2014.html
Becoming a sponsor is time consuming and costly.  Expect 12-16 months, and (mostly legal) expenditures of $200-300,000.  However, once you have the exemption you can take ETFs to market in approximately three months if the strategy is plain vanilla, or six to infinity months if not.  I expect the SEC to streamline this process in the future.
Pros include autonomy, full revenue capture, and total control over the product.  
Cons include costs, infrastructure buildout, and time to market.
Benefactor/Seeder
This is a new business model where real money instiutions have an ETF idea, and agree to seed it to see it come to market.  Some recent examples include Arizona and Fisher.
I am surprised more taxable real money institutions (like family offices) don't launch their own ETFs for their internal, active strategies for two reasons – tax efficiency, and potentially revenue capture.  
When will we see the first endowment or family office ETF?
Graphics from Jan 2014 Update of "The Global Multi-Asset Market Portfolio 1959-2012″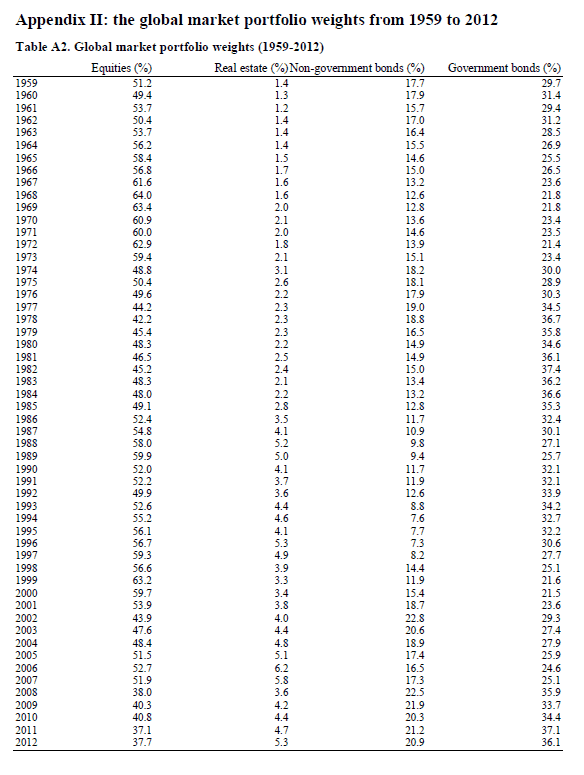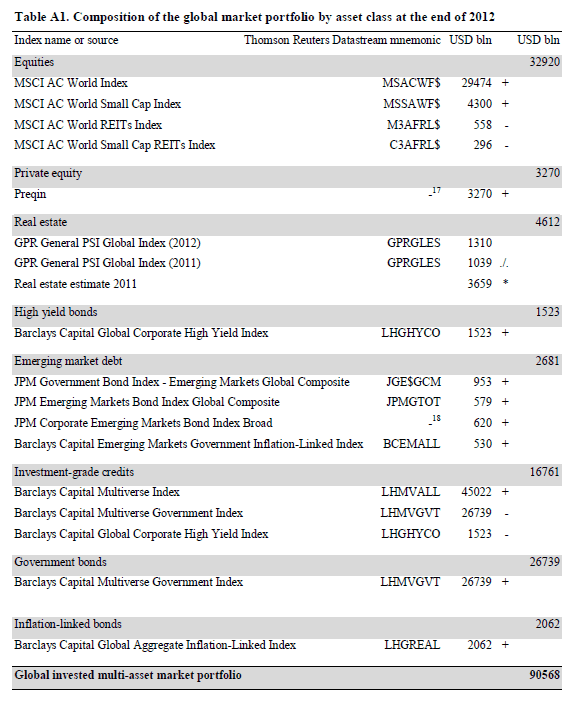 I'm starting a hellish travel schedule for the next six weeks, and usually I like to give out free books at the talks so people don't get obsessed with taking notes.  So, for the next five days my eBooks are free on Amazon – so download away and let me know what you think!
PS If you don't have a Kindle/iPad you can download the Kindle software onto your CPU.  Also, it looks best in color – old Kindle users are reporting it is hard to read…enjoy!
Valuation works over long time periods.  In the short term, anything can happen.  The US market was slightly expensive at the end of 2012, but lo and behold it returned over 30%.  Below is a fun chart of yearly CAPE values back to 1900 and future 1o year returns, and I will keep the commentary light as the conclusions should be fairly self evident.  Notice most of the red and yellow years end up on the left side of the chart of low returns, although there are some on the right side.  And vice versa with the green ones.
Most investors like to think in binary terms.  Stocks are either cheap and a buy, or expensive and a sell (or crash!!!).  I'm convinced they think this way along the same lines they like to cheer for sports teams (it's more fun).  I tell investors using valuation is a spectrum of future possibilities.  While buying expensive markets generally will produce lower future returns, you will have positive outliers.  The same for cheap markets, it's usually a good idea but they can always get cheaper.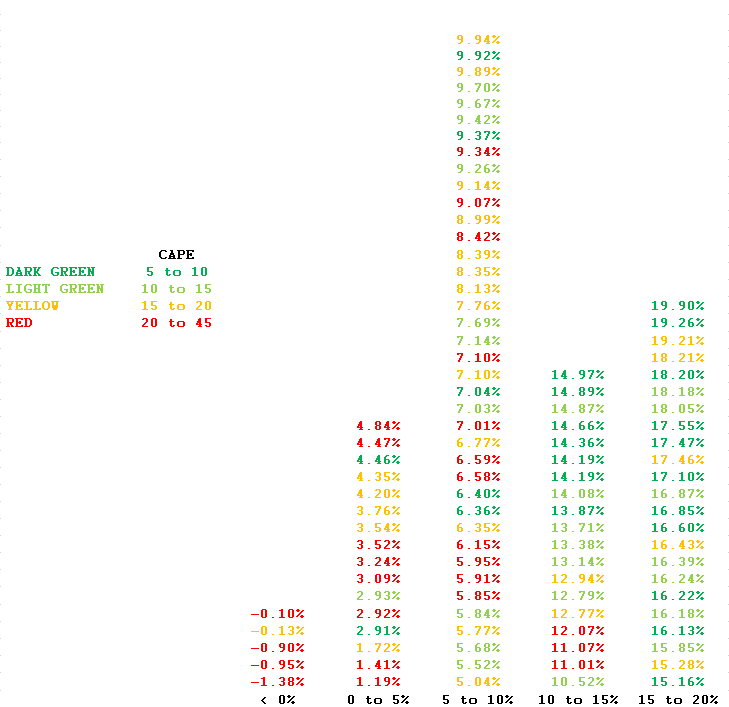 I sent out a fun piece by Novus to Idea Farm subscribers last month called Like Tiger, Like Cub.  The piece took a deep dive into the Tiger Cubs, and we have written about plenty about Tiger and offspring on the blog before as well as in our first book The Ivy Portfolio.
I thought it would be fun to check in on how they are doing.  Below we take the five most popular holdings across 21 Cubs, rebalanced quarterly 50 days after the quarter.  This simple portfolio has whalloped the market in years past by over 10 percentage points per annum since 2000.    Since publication of Ivy, this portfolio would have outperformed the market four of the past five years.  Not bad!
What do they hold right now?  A full third of the 21 Cubs all own the stocks below in the second chart.
Source: AlphaClone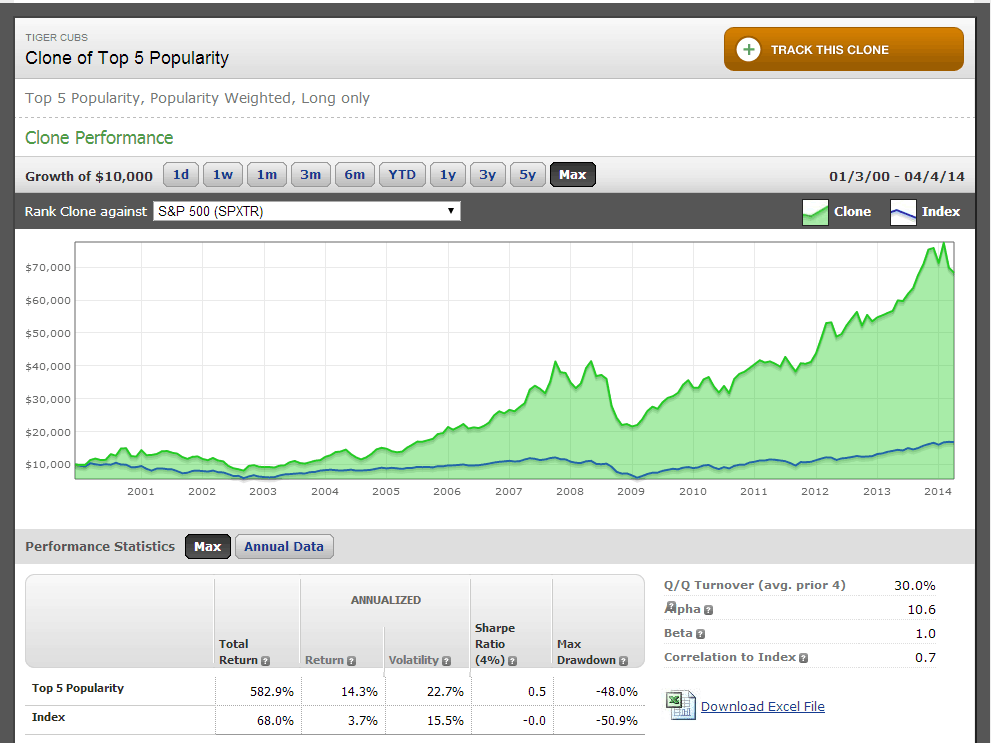 If UVa beats MSU Friday I'll send my readers a free book.  If they make the Final Four I'll double up and make last two books free.  
GO HOOS!!!
Disclosure: Funds I manage and clients own Russian stocks and ETFs.
Many times on this blog I've mentioned that for every investing strategy there needs to be a fundamental reason why it works.  A basic, "explain to your 12 year old niece reason why it works".  Value investing, at its most basic, is buying $1 for $.80 (or less than intrinsic value).  Most of the alpha out there (or smart beta or whatever it is being called these days) is either hard to find or hard to DO.  And by do, I mean it goes against everything your behavioral instincts tell you to do.  Buying a stock at all time highs is hard to do, and one reason momentum and trend work.  Buying a value investment is hard for many reasons, a few of which I outline below with a very relevant current example, Russian stocks. 
1.  All of the headlines are negative.
2.  The investment has declined, usually by A LOT. 
3.  All of the trailing fundamentals are really bad.
4.  People can find many reasons why "this time is different" for the value metrics not to be reflective of the current situation.
5.  There is a non-zero risk of the investment going to zero.
6.  It is not popular (or patriotic) to own the investment.  
7.  Buying the investment, and it going down more,  would pose serious career risk. (or divorce risk).
8.  The banking consensus is all sell rated.
9.  Flows are out.
Russia checks all of these boxes and then some.   
For the same reason we recommend to never put all your eggs in one basket with a single stock, the same goes for countries too.  If you plan on value investing with countries it makes sense to buy a basket rather than just one or two.  As was the case with Greece going to a CAPE of 2 in 2012, Russia could easily get cut in half again.  But secular bears set the stage for secular bulls, and vice versa.  Off to pizza in Phoenix.
If you're local in LA, S&P is hosting an event for financial advisors at the Montage on April 10th, come join!  I plan on tossing a book in all the goodie bags.
| | |
| --- | --- |
|     | DETAILS |
LOCATION:
Montage Beverly Hills Hotel 
225 North Canon Drive
Beverly Hills, CA 90210 
LUNCH/REGISTRATION: 
12:00 – 1:00 P.M.
FORUM:
1:00 – 5:00 P.M.
COCKTAIL RECEPTION:
5:00 – 6:00 P.M. 
My new book is finally available on Amazon!  Here is the link:
Global Value:  How to Spot Bubbles, Avoid Market Crashes, and Earn Big Returns in the Stock Market
We self published it in the same format as Shareholder Yield, although it is longer around 80-90 pages. 
I would recommend reading it on a device (computer, iPad, Kindle Fire) that supports color, as there are about 40 charts and figures. As always, all the subs of The Idea Farm get a free copy.
A physical version will likely be out in a week or two once I see the proofs.
Let me know what you think, and as always, please leave a review on Amazon!
Here is the book homepage www.globalvaluebook.com , and below is a short description of the content.
Summary blurb:
Investment bubbles and speculative manias have existed for as long as humans have been involved in markets. Is it possible for investors to identify emerging bubbles and then profit from their inflation? Likewise, can investors avoid the bursting of these bubbles, and the extreme volatility and losses found in their aftermath to survive to invest another day? 
Over 70 years ago, Benjamin Graham and David Dodd proposed valuing stocks with earnings smoothed across multiple years. Robert Shiller later popularized this method with his version of the cyclically adjusted price-to-earnings (CAPE) ratio in the late 1990s and correctly issued a timely warning of poor stock returns to follow in the coming years. We apply this valuation metric across more than 40 foreign markets and find it both practical and useful. Indeed, we witness even greater examples of bubbles and busts abroad than in the United States. We then create a trading system to build global stock portfolios, and find significant outperformance by selecting markets based on relative and absolute valuation.