Great suggestion for what to buy Dad for Father's Day!
—-
Moving Averages:  Holy Grail or Fairy Tale, Part 1
—-
Some new blogs added to the blogroll, including today's addition:  Investment Linebacker
—-
—-
I haven't seen a mean variance optimization with human capital.  Yet.
—-
Speaking of mean variance, this author argues terminal wealth is more useful.  Link to the paper here: "A Geometric Mean Maximization: An Overlooked Portfolio Approach?"
—-
Birds hate me.  This bird is apparently dive bombing every passerby in San Fran's financial district.  Video here from CNN.
Photo from Reuters: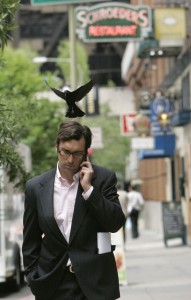 —-
And, one more Tuesday diversion, "Her Morning Elegance" :