This excerpt is from the book Global Asset Allocation now available on Amazon as an eBook.   If you promise to write a review, go here and I'll send you a free copy.
—-
Andrew Tobias has written twelve books, including selling over a million copies of The Only Investment Guide You'll Ever Need.
He proposes another basic Lazy Portfolio with only three holdings, which is also reminiscent of Bill Shultheis and Scott Burns's three-fund portfolios.  The lack of real assets definitely hurt this portfolio in the 1970s.
Figure 49 – Andrew Tobias Portfolio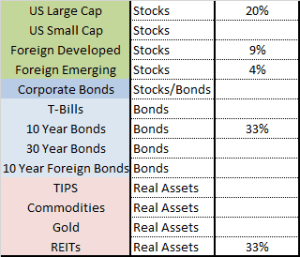 Source: The Only Investment Guide You'll Ever Need, 1978
Figure 50 – Asset Class Returns, 1973-2013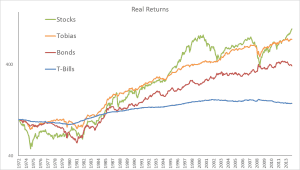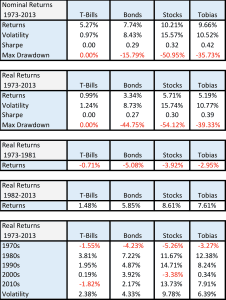 Source: Global Financial Data