This excerpt is from the book Global Asset Allocation now available on Amazon as an eBook.   If you promise to write a review, go here and I'll send you a free copy.
—-
"Let every man divide his money into three parts, and invest a third in land, a third in business and a third let him keep by him in reserve." -Talmud
You can't get much more basic than this.
Figure 51 – Talmud Portfolio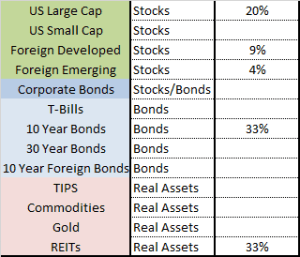 Source: Talmud, 500 C.E.
FIGURE 52 – Asset Class Returns, 1973-2013