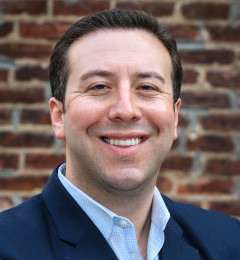 Episode #156: Steve Glickman, "I Think There's A Lot Weighing On How Successful We Are At Achieving The Goals Of Opportunity Zones"
Guest: Steve Glickman is the Founder and Chief Executive Officer of Develop LLC, the first full service, independent advisory firm dedicated to building and supporting Opportunity Zone Funds, and he is one of the nation's top Opportunity Zones experts who is a sought after speaker at industry gatherings around the country. Steve is also an Adjunct Professor at Georgetown University, where he teaches on economic diplomacy and international trade in the School of Foreign Service. He sits on Georgetown's Board of Governors and the Board of The NewDEAL.
Date Recorded: 4/26/19
Run-Time: 58:02
To listen to Episode #156 on iTunes, click here
To listen to Episode #156 on Stitcher, click here
To listen to Episode #156 on Pocket Casts, click here
To listen to Episode #156 on Google Play, click here
To stream Episode #156, click here
Comments or suggestions? Email us Feedback@TheMebFaberShow.com or call us to leave a voicemail at 323 834 9159
Interested in sponsoring an episode? Email Justin at jb@cambriainvestments.com
Summary: In Episode 156 we welcome back our guest from episode #115, Steve Glickman. To get listeners up to speed, Steve starts with an overview of what Opportunity Zones are, some specifics about the design of the program, and some concepts behind how investors can actually put money to work in Opportunity Zones.
Meb asks about additional insights since updated rules have been announced. Steve discusses clarity on items such as investing timelines on capital gains, and the length of time funds have to invest capital.
When Meb asks about what kind of investments are available, Steve goes on to clarify that just about any asset class is available, but commercial real estate funds, energy, and infrastructure are areas he's seeing utilized, among others.
The conversation then gets deeper into what needs to happen with investments to qualify to meet the regulations, and what happens if companies no longer qualify under the rules. For real estate specifically, Steve describes the need for projects to fall under one of two categories, either 1) purchased for original use, or 2) must undergo substantial improvement. He then describes some of the rules surrounding other businesses, such as startups and existing businesses. Meb follows up with questions on qualifications of some specific examples from public stocks to REITs.
On the back of details about investments, the pair get into the fund landscape, with Steve mentioning how he thinks much of the fund market will consist of professional money managers running funds in their respective industries.
Steve then covers what he's seen so far from the very early days of the program. He discusses much of what he's seeing is in commercial real estate, but he's seeing creative models of asset classes many people haven't thought of yet. He then shares some thoughts about how some of the early rules may be revisited going forward, and some of the potential issues that could come up with the program.
As the conversation winds down, Steve discusses his firm, and the things he's working on.
All this and more in episode 156.
Links from the Episode:
0:50 – Welcome back Steve Glickman
:56 – Episode #115: Steve Glickman, Opportunity Zones: "Ultimately, If You Hold for…10 Years or More…You Don't Pay Any New Capital Gains – Ever"
1:40 – Overview on opportunity zones
3:13 – What it means for investors to put money into opportunity zones
6:00 – Describing the latest updates to these rules
10:41 – What is characterized as a suitable investment under these rules
13:35 – How real estate would qualify for opportunity zone benefits
16:36 – How does a company looking for investment qualify
19:00 – Investing in established businesses
20:42 – Restrictions to buying publicly traded companies
22:09 – Using a REIT to invest in opportunity zone properties
23:16 – What happens if a company leaves an opportunity zone or the business goes bankrupt
28:00 – What are the rules around LP funds investing over multiple years
30:02 – The breakdown of investing through funds vs. independently
32:50 – Conclusions from the first year of this program
35:44 – When the Opportunity Zones reviewed
39:48 – Disaster relief zones and opportunity zones, and the criticisms surrounding them
44:00 – Steve's new advisory firm Develop
46:25 – Ways Steve would fix the opportunity zone program
47:51 – Other countries with a similar model
50:37 – Non-traditional business ideas for opportunity zones
55:14 – Favorite zone
56:03 – Learn more: Develop, Opportunity Zones Index
Transcript of Episode 156:
Coming soon.