At least, that's what everyone thinks:
HT Advisory Perspectives & Sundarden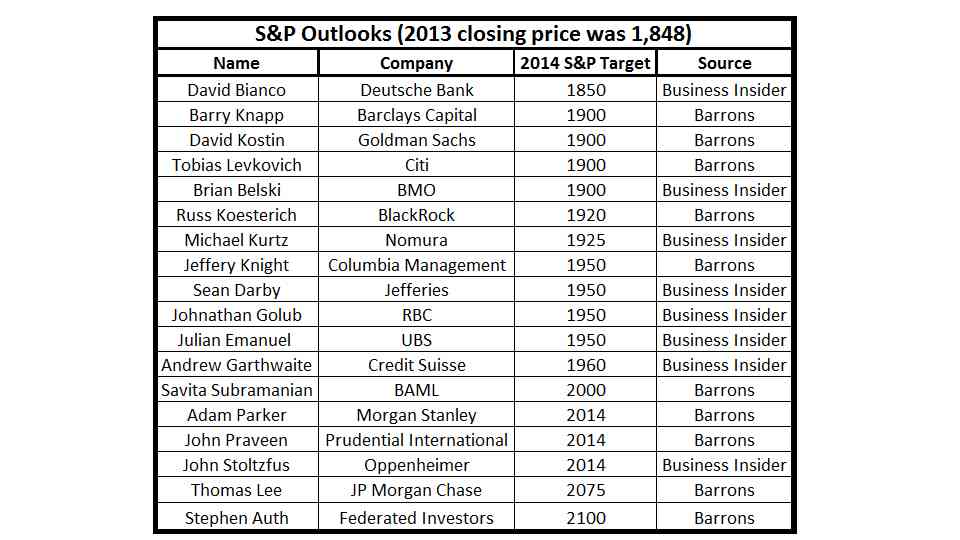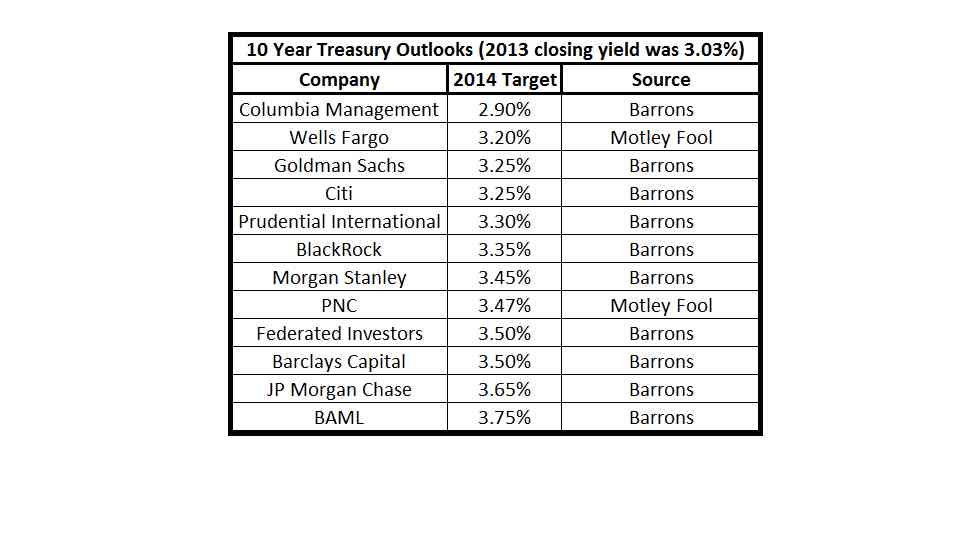 While I just got home to my own bed, I'm getting read to hit the road again.  Below is a list of upcoming speeches and travel.  Drop me a line if you want to schedule a meeting (or a beer), the entries in BOLD are where I am giving a public speech) :
Denver & Vail CO:  February 25th – March 4th
LA :  Wednesday, March 5th,  Private speech
Albuquerque speech: Thursday,  March 13th,  AAII
Phoenix speech: Wednesday,  March 26th, CFA Society
LA speech: Saturday,  April 19th, AAII
Sonoma: Thursday,  May 1st, Wine Country Conference
NYC: Wednesday, May 7th, Private speech
Paris: May 8th-13th
~tentative Las Vegas, Wednesday May 14th, Speech
~tentative Atlanta Wednesday May 7th, AAII
I get lots of questions regarding our original paper, most of which I've tried to tackle in the FAQs in the update.  Here is a fun look from the Butler Philbrick crew asking some questions I have never even considered (what about an ANNUAL rebal?) and some more familiar to the readers here (what about daily updates, day of the month, parameter length, etc)…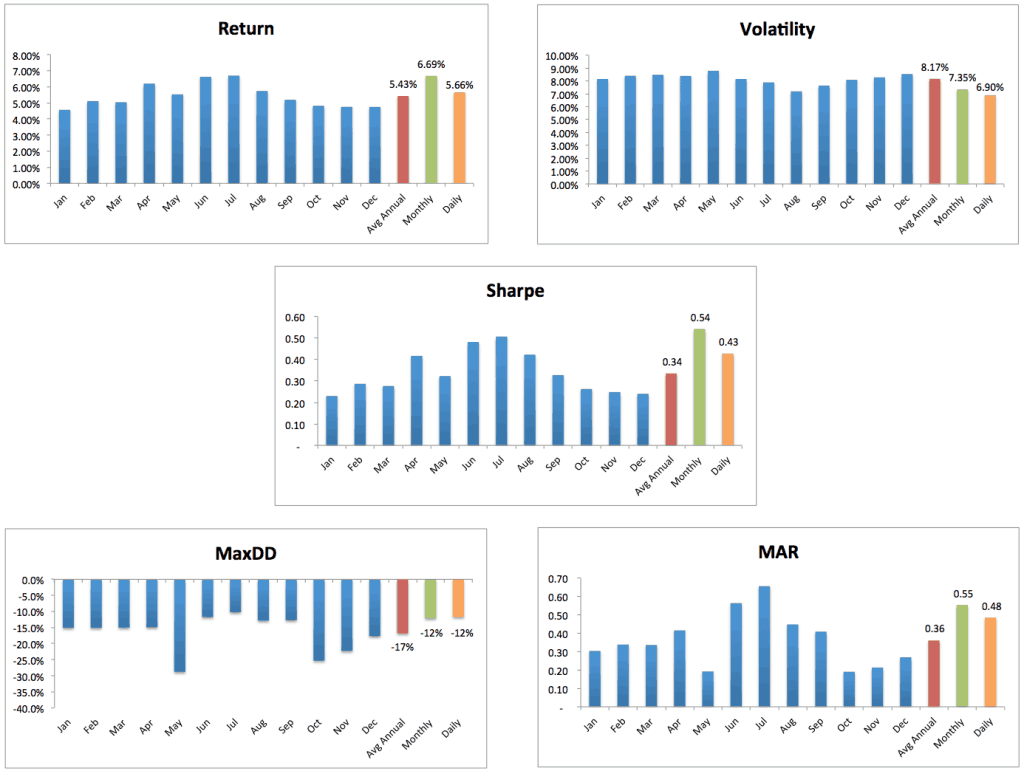 I sent this read out last week to the Idea Farm list, and since it is a free download as well as my favorite read of the year I'm including it here.  CSFB publishes the Global Investment Returns Yearbook each year, and it is a gem.  It is their yearly update to my favorite investing book, Triumph of the Optimists.
Even better, all of the archives are included in the link and I highly recommend you download and read all of them.  
Quick charts before the download: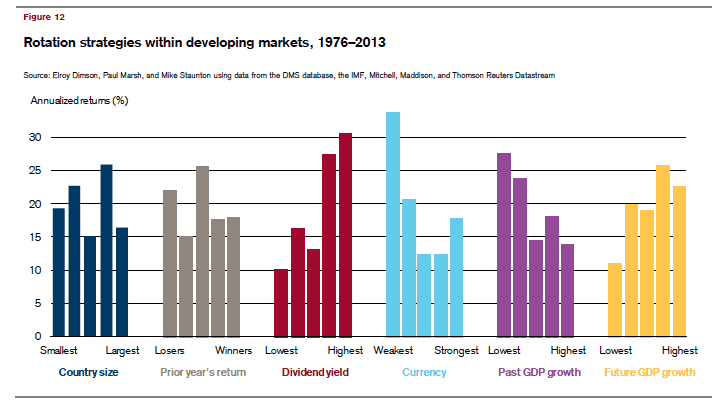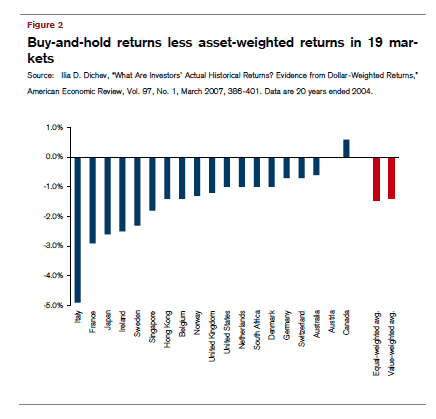 Download PDF
Website to download previous years
https://www.credit-suisse.com/us/en/news-and-expertise/research/credit-suisse-research-institute/publications.html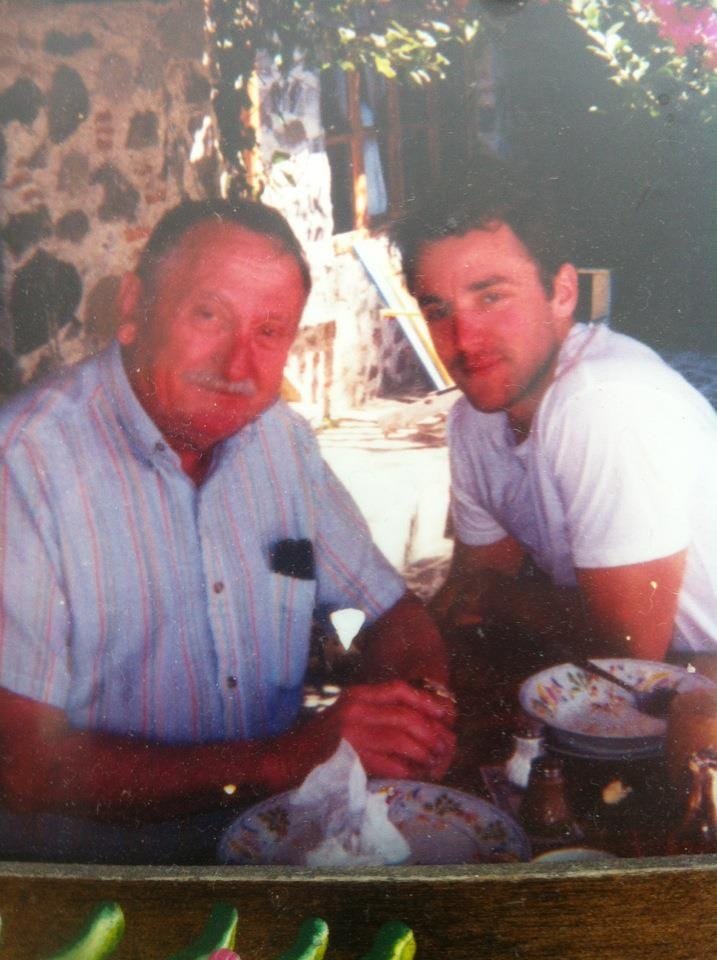 This is one of my favorite pictures of Dad and I, having breakfast on the shores of Lago Atitlan in Guatemala.  
I have always loved New Years Resolutions.  That doesn't mean I have always been able to keep them of course, but the idea of optimism, renewal and committing oneself to self improvement has always appealed to me.
Previous years have included resolutions such as "Just say no" – meaning, trying to focus on the important things, and reducing the clutter and constant distractions of phone calls, meetings, unnecessary travel, etc (this one was kept and really helpful.).  Last year's was "ski at three new places" (this was accomplished by March: Crested Butte, CS Irwin, and Alta).  Another year was "try a new obsession every month", like becoming immersed in Japanese, learning Salsa, etc.  This one didn't work I think mainly due to lack of planing of the obsessions ahead of time – perhaps in a future year – it's like 12 mini resolutions all in one.
My 2014 resolution was "take matters into my own hands".  This one sounds a little cheesy, but was meant to be in the general theme of "take charge" or "just do it!".  I have lots of goals for 2014 including launching new funds, publishing three new books, skiing in Japan, taking Mom to Bhutan, and some other fitness and personal goals, and wanted to make sure that I made a concerted effort to take control of my life's trajectory instead of getting caught up in the minutiae.  
On January 1st my father unexpectedly died of a heart attack.
With one phone call my entire life was thrown upside down.  The concept of being in charge completely disappeared – any illusions of control were shattered.  While our family has rallied together from all over the country, it has been the hardest day.week.month of most of our lives as our father was more than a father , but also the patriarch, and to me, a best friend.  
Despite writing over 1500 posts, I tend to be a private person – but I wanted to try and make my best effort at honoring the man than was and is the main mentor and model for why and how I became an investor.  There's no investing advice or market calls in this post, but perhaps a look into a lot of the formative experiences and reasons behind the other 1,500 posts…and why, even though this is an investing blog, the main Mallory quote on my About page is :  "And joy is, after all, the end of life. We do not live to eat and make money. We eat and make money to be able to live. That is what life means and what life is for"
My father grew up very poor on a farm in Nebraska.  By poor we are talking a house with dirt floors, no running water, an outhouse, and he shared a bed with his younger brother through high school.  When the family eventually moved into "town", my grandfather, who drove oil trucks, wouldn't use the bathroom in the beginning because he didn't like the idea of people doing that inside the house!
Dad and I used to sit around, usually with a glass of port, listening to him tell stories of his childhood and growing up on the farm.  What always impressed upon me was despite the financial challenges and lack of material items, he grew up happy and never expressed any regret for his childhood, but rather genuine fondness for that time.  He still went fishing and hunting and played baseball – he just couldn't afford to buy a Coke or ice cream afterwards like the other kids.
However, not having the freedom from financial worries definitely had a major impact on Dad.  He excelled at school (many would say, including myself, that he was the most brilliant man they ever met), and one particularly interested teacher helped motivate him to be the first in his family to goto college.  He studied engineering at Nebraska, and to pay for school then served in the military.  This soon became another major influence, as the rigid management structure of the military didn't appeal to him – especially having to take orders from people he didn't agree with.
Dad then went on to grad school at Colorado (and later on, Harvard).  A true rocket scientist, Dad worked at Martin Marietta and the successor Lockheed Martin, eventually leading projects overseeing thousands of people and hundreds of millions in revenue.  When we used to go on horsepacking trips with other Lockheed guys I loved listening to all of their stories sitting around the campfire about their projects with names like Atlas and Viking (and this is one reason I started out in aerospace engineering).
When going through his files the past few weeks I found his top secret application and more than one striped top secret document (obviously I shredded them if you are reading this NSA).  Often interspersed within those files would be pictures, drawings, or letters from his family and three boys.
This self made man never forgot where he came from, and this had a major influence on his personal finance (frugal for himself) and investing behavior.  Dad kept everything – there are brokerage reports from the 1980s (Dean Witter!) as well as hand drawn stock charts and other notes – all with meticulous writing on block engineering paper.
He also kept all of the letters anyone ever wrote him.  We used to talk investments and stocks – I found two handwritten letters from when I was 11 where I recommended we buy McDonalds, Disney, and Paramount (since Tom Cruise had a new movie coming out that summer).  Surprisingly, that actually would've worked out great.
Dad, also in part due to his upbringings, favored hard assets.  If you had to describe his asset allocation strategy it would closely resemble the Talmud strategy - namely a third in businesses (stocks), a third in land (farm and real estate), and a third in reserve (cash and bonds).  He wasn't exempt from common behaviorial biases, and he was loathe to sell assets declining, although he would hold onto his winners, forever.  He ran a family farm in Kansas for wheat and milo, and I remember him telling me many years ago "when I grew up it was the farmers driving the Cadillacs – it will happen again someday".  He turned out to be eerily correct, as farmland values, especially this decade, have exploded.
One of his favorite phrases has been, especially referring to something dumb I had done, "you're optimizing on all the wrong parameters".  That phrase has not only applied to a great deal of how I approach markets, but also my personal life as well.  When sitting around lately most of the conversations would center around similar topics – "are you happy"? was always one of his favorite questions.  
One of the more surprising revelations was how generous Dad was.  While going through all of this mail we have found evidence of his donating to over 40 different charities, and reminds me of the old Churchill (one of his favorites):  "We make a living by what we get, but we make a life by what we give."
Dad lived an incredibly full and accomplished life, and we only mourn not being able to spend the coming years with such a great father and friend.  A future without Dad is impossible to fathom, but we take solace that he is in a better place. 
A friend passed along the below piece, and I think it especially touching and timely as today would have been Dad's 80th birthday.  Happy Birthday Dad, we love you (and Go Broncos!!)
In honor of Dad, all of the revenue for the month of February will go to his four favorite charities.
Written by Henry Scott Holland (1847 – 1918) Canon of St Paul's Cathedral
Death is nothing at all. I have only slipped away into the next room. I am I, and you are you. Whatever we were to each other, that we are still. Call me by my old familiar name, speak to me in that easy way you always used. Put no difference into your tone; wear no forced air of solemnity or sorrow. Laugh, as we always laughed at the little jokes we enjoyed together. Play, smile, think of me, pray for me. Let my name be ever the household word that it always was. Let it be spoken without effect, without the ghost of a shadow on it. Life means all that it ever meant. It is the same as it ever was; there is absolute unbroken continuity. What is this death but a negligible accident? Why should I be out of mind because I am out of sight? I am but waiting for you, for an interval, somewhere very near just around the corner… All is well.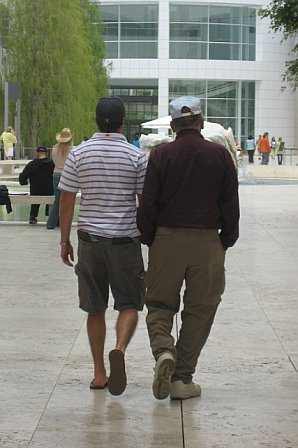 I had a great time at the ETF.com (formerly IndexU) conference in Florida the other day.  The highlight for me was getting to see Jeremy Siegel speak.  He is a brilliant researcher and well deserves the title of the "Wizard of Wharton".  Especially wonderful was he focused his talk on one of my favorite metrics – the Shiller CAPE ratio. (The two are best friends.)
Since I've been traveling for the better part of 6 weeks, I had a fun experiment the other day where I offered free subscriptions to The Idea Farm to the individuals that could replicate his NIPA work from his recent paper and Powerpoint presentations.  Two proactive analysts build the sheet within two days – pretty cool!
Siegel's basic argument is that due to accounting changes Shiller's CAPE is misleading.  I actually have no problem with his arguments, they make a lot of sense to me.  (Here is a FT article "Don't put faith in CAPE crusaders", his white paper here, and Powerpoint here.)  I left his book in Colorado but looking forward to reading his recent updated Stocks for the Long Run, a classic.
What I disagree with is his conclusion – (namely he is bullish and argues no overvaluation).  Let's look at his data and see what they say.
The NIPA series basically moves the whole CAPE chart down 3 points.  So replicating his data spits out the following chart and numbers: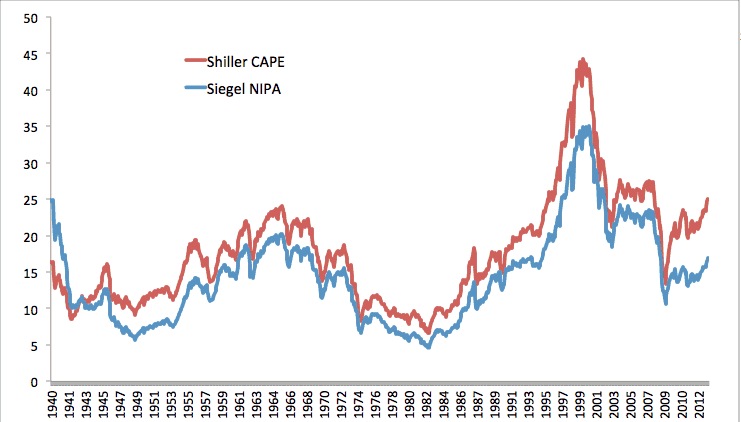 1940 – 2013
Shiller CAPE median valuation:  17
Shiller CAPE current valuation: 25
Over/undervaluation:  47%
Siegel NIPA CAPE median valuation:  14
Siegel NIPA CAPE current valuation:  17
Over/undervaluation:  21%
So, looking JUST at the data, it seems the two best friends should agree…the conclusion is the same, stocks are overvalued, just how much is the question…
(This was going to be a longer piece but I'd touch on the highlights below.)
Let's jump right in – how did broad asset classes perform in 2013? Short answer – a monster year for US stocks, bad for bonds and commodities.  Foreign equity markets and real estate were mixed.  Below is a representative table of 20 basic ETFs across the broad asset classes:
FIGURE 1 – Asset Class Returns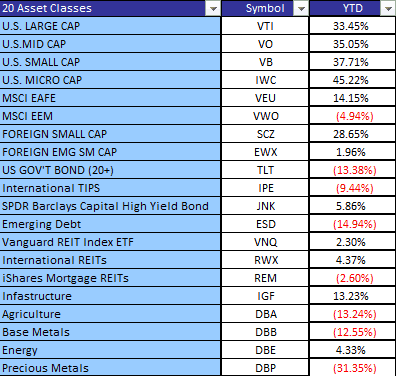 Foreign Developed Stocks: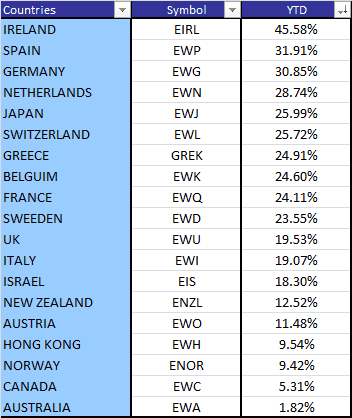 Foreign Emerging Stocks: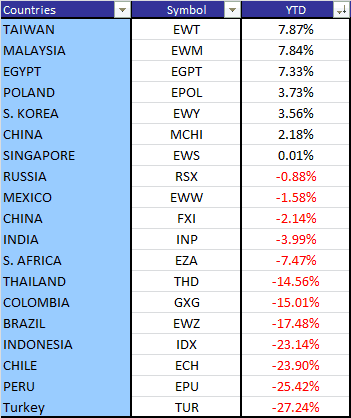 Now, on to what to expect in 2014…
 1.        2013 – A Monster Year for Stocks…
US equity markets had a banner year in 2013 with the S&P 500 up 32%.  While this number sounds large, as Fisher is fond of saying, "normal market returns are extreme".  Below is a chart with the distribution of all US stock returns since 1900.  As you can see, most years are positive, but there are certainly some massive outliers on the good and bad side.  Fat tails are the norm.
Figure 2 – US Stock Market Returns Since 1900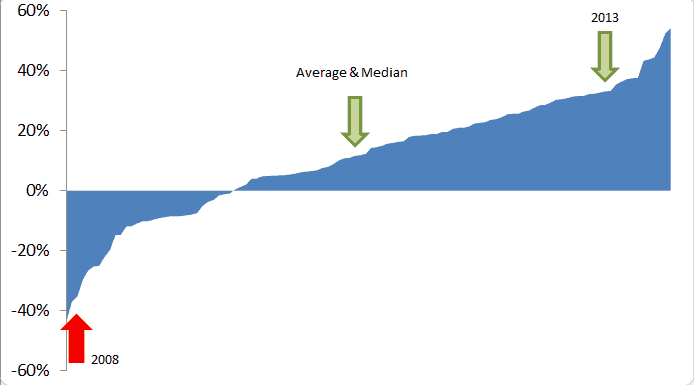 Source: GFD
Even though we have had quite a run since the 2009 bottom, up 179% for US stocks, the past thirteen years have been difficult for most investors
US stocks have returned a meager 3.58% per year from 2000 – 2013, and factoring in inflation, have returned 1.2% per year.  That is, if the investors had the ability to sit through two gut wrenching bear markets with declines of over 45%, and according to recent DALBAR studies, many have not.  The average equity investor underperformed the S&P 500 by about 4% over the past 20 years.  (Bond investors are equally as bad.)
2.        …But Valuation Will be a Headwind
One of the reasons for the subpar returns is simple – valuations started the 2000s at extreme levels.  The ten year cyclically adjusted price to earnings ratio (CAPE) reached a level of 45 in December 1999, the highest ever recorded in the US. We are nowhere near bubble territory, nevertheless, stocks are on the expensive side.
FIGURE 3 – 10 Year Shiller PE (CAPE) Values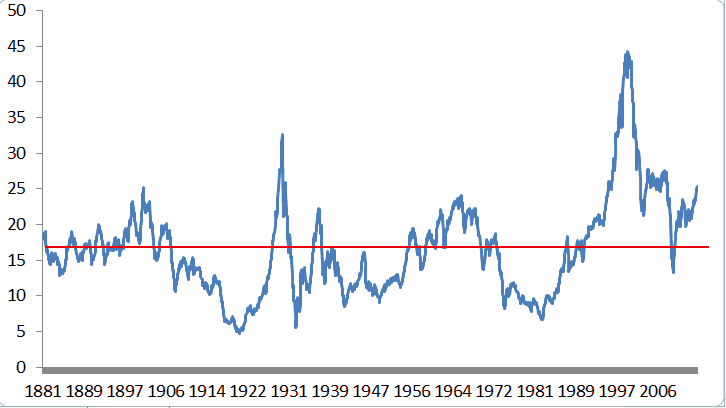 Source: Shiller 
As you can see in the figure below, future returns are highly dependent on starting valuations.  The current reading as of the end of 2013 is 25.4,  above the long term average of around 16.5.  At the current levels of 25+, future returns have been uninspiring. 
FIGURE 4 – CAPE and Future Real Returns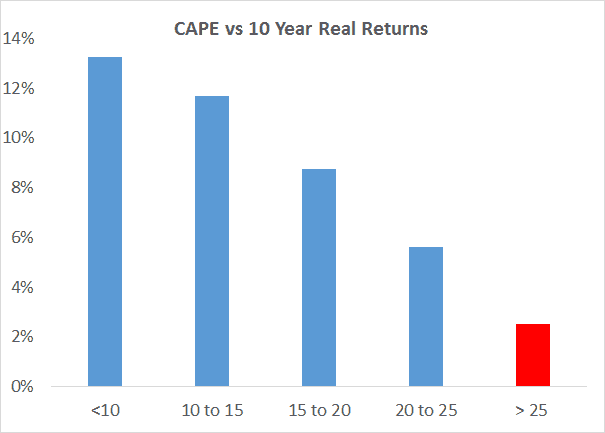 Source: Shiller 
While many have critiqued the legitimacy of CAPE, realize all of the valuation metrics are in agreement – US stocks are expensive – they just disagree on the magnitude.  (Even Siegel's NIPA measure argues stocks are expensive historically.)  While we don't think we are anywhere near a bubble, returns should be muted going forward.  Perhaps 4% nominal is a good target.  If margins revert, 0% is a real possibility.  
3.        Small Cap Stocks and Dividends are Expensive
Small cap stocks had an even stronger year than the broad market in 2013, up 37%.  However, this performance has led small caps to be at a high relative valuation to large caps, and a high absolute valuation relative to their own history.  Investors should consider a cap agnostic approach or perhaps eliminate small caps altogether.  
 FIGURE 5 – Small Caps Relative to Large Caps

Source: Leuthold
 FIGURE 6 – Overall Small Cap Valuations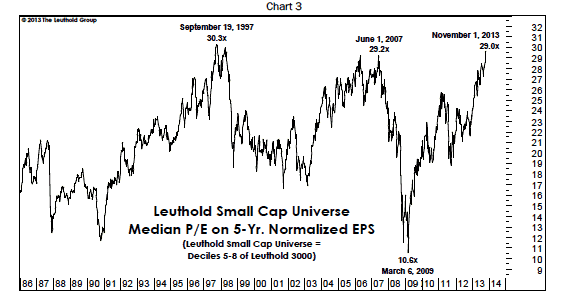 Source: Leuthold
Another area of concern within equities is the high dividend yield space.  Historically dividend stocks have traded at a discount to the overall market, but as money has rushed into dividend stocks, the high yielding dividend stocks are trading at a large premium to the overall market.  
We feel the same about many low volatility strategies that are no longer trading at low volatility levels…consumer discretionary should also underperform as it finds itself at one of the higher multiples in history on both an absolute and relative basis.  
FIGURE 7 – Dividend vs. Shareholder Yield Valuations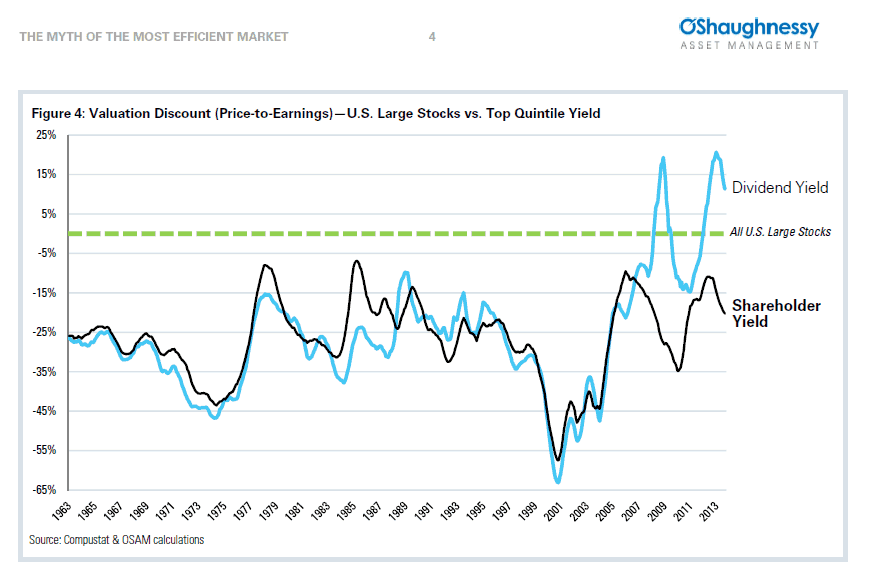 Source: OSAM
 4.        Bonds will not help a 60/40 get to 8%
US government bonds proved to be a wonderful place to hide out during the past 13 years.  The compound return was 5.9% and a nice 3.4% after inflation.  The problem with these returns, however, is that they come at the expense of future returns as yields have declined.  2013 proved to be a tough year for bonds, with yields on the 10 year rising to around 3%  and the same bonds suffering a 8.6% decline. 
Future bond returns are easy to forecast, they are simply the starting yield.  Your ten year return for buying US government bonds will be around 3% currently.
So, investors are presented with the following opportunity set (assuming 2% inflation going forward, and rounding to make it simple):
US stocks:  4% nominal, 2% real
US Bonds: 3% nominal 1% real
That leaves a 60/40 investor with a 3.6% nominal return, or a 1.6% real return.  Not exactly exciting, and nowhere near 8%!
So where should investors look for outsized returns while managing their risk?
5.   Where to Look?  Go Global
The European crisis has pushed down many foreign and emerging country stock valuations to low levels.  Some countries, like the PIIGS (Portugal, Italy, Ireland, Greece, and Spain), are trading at low CAPE levels below 11 (Greece and Ireland are both below 8).  The broad MSCI EAFE is around 16, and the MSCI EEM is around 15.  The US is the most expensive developed or emerging country at a value of 25!  Nine countries are below a CAPE of 10 and twenty are below a value of 15.  It makes a lot of sense, especially for those that are heavily overweight US stocks, to consider a more global approach with an allocation to foreign stocks.  The United States only accounts for about 20% of world GDP, and half of market cap, but most US investors have a much higher allocation of around 80% to US stocks (which is what is typical around the world with this home country bias).  Most stocks around the world are cheap:
FIGURE 8 – Average Valuations Around the World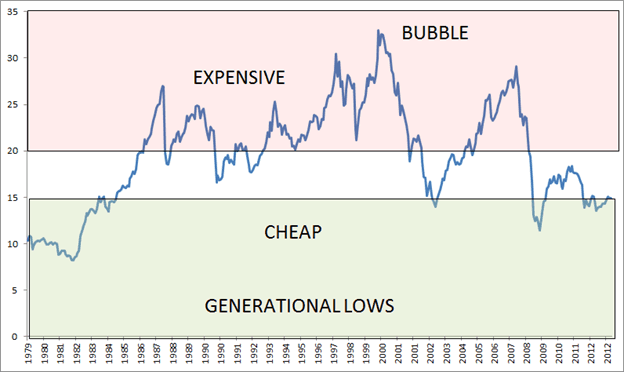 We also firmly believe, as central banks continue their fight against inflation, in the strategic allocation to real assets, including real estate through domestic and foreign REITs, and various commodity exposures.  A simple allocation of these assets, as detailed in our book The Ivy Portfolio, would have done decent job at navigating the past 13 years of market volatility.  While there was a lost decade in US stocks, a balanced global asset allocation performed much better. 
SUMMARY
As demonstrated by the returns over the past 13 years, choosing a strong approach to managing assets can make a big difference to a portfolio.  Avoiding common mistakes, such as emotional decision making, only focusing on traditional asset classes , and not having a risk management plan, is important.  Often investors don't have the time or the patience to manage their assets effectively. Consider reducing exposure to US stocks (small caps and high dividend yielding stocks) in favor of foreign equities.  Within equities, consider a value approach.  Within and across asset classes, consider using trendfollowing methods to reduce risk and exposure to catastrophic loss.
I've done this post every year since Ivy Portfolio came out (you can see last years longer post here).  I'll let you read the old ones if you want, but needless to say it was another banner year for 13F tracking.  The average fund that we published in our book beat the S&P by 12 percentage points.  (HT AlphaClone, top 10 holdings equal weighted.)
So, for the 13F detractors out there, this is now 5 years of out of sample performance.  4/5 years the portfolio beat the S&P.  Total outperformance?  9% per year.  That' is monster outperformance!
2013 stats – zero negative funds (no surprise with the S&P up 30%+) though ESL and Pershing Square were the two worst.  Some monster years out of Cannell, Second Curve, King Street, and Brave Warrior.
And if you still don't believe me, there are a few 13F ETF trackers out there doing a fine job as well…
I am holding a cover design contest for my next book, and you can vote here if you want to take a peak. As usual the one I like the most is running in last place!  But then again I profess no taste or marketing eye.
I then saw a tweet where an individual build a google docs sheet to track one of my old models:
Quick auto-updating Google doc implementation of @MebFaber 's Ivy 10 & 20 portfolios cc: @DontTalkStocks https://t.co/vFvaKQHxCo

— Claus (@augustlights) January 18, 2014
This got me thinking – I wonder if there is more to be done with outsourcing research?  I know Quantopian does a lot of work with algorithms and eventually I'll come up with an idea to post to Kaggle.  Here is a starter project, and the first one to build this correctly will get a free sub to The Idea Farm (I'll give up to three if anyone builds them).
Recreate Siegels NIPA CAPE Excel sheet.  Resources here:
To make everyone's life a little easier, I shortened the domain a few letters.  It will redirect but you may also want to update your links…