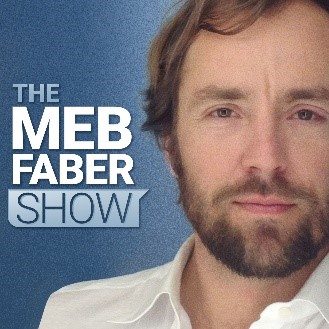 The Meb Faber Show Podcast
Welcome to my podcast, The Meb Faber Show, where the focus is on helping you grow and preserve your wealth.
Each week I'll discuss the craft of investing, helping you uncover new and profitable ideas in the global equity, bond, and real asset markets. You can also expect to hear from some of the top investment professionals in the world as my guests.
So join us for real market wisdom that can make you wealthier and wiser. Better investing starts here.
If you have suggestions, or would like to sponsor the podcast, please contact us at feedback@themebfabershow.com
Subscribe to The Meb Faber Show
Disclaimer: All opinions expressed by website participants are solely their current opinions and do not reflect the opinion of Cambria Investments, Inc. ("Cambria") or affiliates. The website participants opinions are based upon information they consider reliable but neither Cambria or its affiliates warrant its completeness of accuracy, and it should not be relied on as such.
Past performance is not indicative of future results. Strategies or investments discussed may fluctuate in price or value. Investment or strategies mentioned in this website may not be suitable for you and you should make your own independent decision regarding them. This material does not take into account your particular investment objectives, financial situation or needs and is not intended as recommendations appropriate for you.
New to The Meb Faber Show?
Below are seven of the most popular episodes we've aired (in no particular order). They're a good place to start. Below that, you'll find all our podcasts in chronological order.
Ed Thorp – A fascinating look back over the career of one of the most influential and successful quantitative investors of all time
Episode #39: Ed Thorp, "If You Bet Too Much, You'll Almost Certainly Be Ruined"
Steve Sjuggerud – Steve delves into one of the greatest investment opportunities in years – a specific way to play China
Episode #49: Steve Sjuggerud, "This Is Not What The Peak Of A Bull Market Looks Like"
William Bernstein – Time-worn market wisdom from one of investing's most respected veterans
Episode #60: William Bernstein, "The More Comfortable You Are Buying Something, In General, The Worse The Investment It's Going To Be"
Jason Calacanis – A deep dive into the world of angel investing and how you can participate
Episode #69: Jason Calacanis, "This Is A Little, Secret Way… A Dark Art Of Becoming Truly Wealthy… Massive Wealth"
Dan Rasmussen – Dan pulls back the curtain on the private equity markets and tells us about replicating leveraged buyout returns
Episode #90: Dan Rasmussen, "The Crown Jewel Of The Alternative Universe Is Private Equity"
Paul Merriman – Powerful market principles with one of the greatest educators in investing
Episode #101: Episode #101: Paul Merriman, "The People That Have Come Out Ahead Are the People Who Have Put Their Trust in the System Over the Long-Term"
Tom Barton – Amazing stories from one of the most successful short-sellers in history
Episode #125: Tom Barton, "The Biggest Problem Investors Have is Things Change…and They Don't Change"
The Meb Faber Show Episode List
(from most recent…)
Episode #165: Chris Mayer, "I Do Think The Biggest Challenge…Is Keeping It, Holding On To It"
The Best Investment Writing Volume 3: Mike Philbrick – Diversification: What Most Novice Investors Miss About Trend Following
Episode #164: Jake Shapiro, "It's This Incredibly Engaging, Highly Effective Medium For Really Valuable Listening"
Episode #163: Albert Meyer, "You're Held In Higher Regard When You Don't Dilute Shareholders"
The Best Investment Writing Volume 3: Paul Novell – When Models Fail
Episode #162: Chase Nobles, "I Think Other Ag Industries Are Going To Be Playing Catch Up With What We've Learned Through Hemp and Cannabis"
Episode #161: Brandon Zick, "In Row Crops You're Generating A Lot Of Current Income"
The Best Investment Writing Volume 3: Jack Vogel – Trust The Process
Episode #160: John Huber, "Stock Prices Fluctuate Much More Than The Underlying Businesses"
Episode #159: Ashby Monk, "The Fee And Cost Issue Is Important Because It Is A Catalyst For Innovation"
Episode #158: Tobias Carlisle, "The Way To Get The Best Performance Is To Concentrate Into Industries When They Get Cheap"
Episode #157: Randy Swan, "Always Invested, Always Hedged"
Episode #156: Steve Glickman, "I Think There's A Lot Weighing On How Successful We Are At Achieving The Goals Of Opportunity Zones"
Episode #155: Aswath Damodaran, "They [Uber And The Ride Sharing Companies Collectively] Have Disrupted This Business…That's The Good News, The Bad News Is I Don't Think They've Figured Out A Business Model That Can Convert That Growth Into Profits"
Episode #154: Frank Curzio, "You Have To Be Able To Adapt To Different Strategies In Different Markets Because They're Ever Changing"
Episode #153: Kim Shannon, "I've Long Believed That The Market Reflects Human Nature As Much As It Does Underlying Fundamental Value"
Episode #152: Kevin Smith & Tavi Costa, "We Believe We're In The Early Stages Of A Bear Market"
Episode #151: Divya Narendra, "Valuation Is Probably The Most Critical Component Of SumZero's Thesis"
Episode #150: Bill Smead, "The United States Economy Is Highly Likely To Be The Strongest The Next 10 Years It's Been Since The Baby Boomers Went Through The 30 to 45-Year-Old Age Range"
Episode #149: Phil Haslett, "Lyft's Doing $2 Billion Dollars A Year In Revenue, And It's Growing That Revenue 105% A Year. There Are Only 8 Companies Listed On The Stock Exchange In The U.S. With That Kind Of Profile"
Episode #148: Paul Lountzis, "The Qualitative Characteristics Are Becoming Significantly More Meaningful And More Important In Company Analysis"
Episode #147: The Stay Rich Portfolio (or, How to Add 2% Yield to Your Savings Account)
Episode #146: Neil Littman, "The More Risk You Kill, Inherently, The More Value You Create"
Episode #145: Cloning The Largest Hedge Fund In The World: Bridgewater's All Weather
Episode #144: Marty Bergin, "Adapt Or Die"
Episode #143: David Eifrig, "Most People Run Losses Into The Ground"
Episode #142: Ryan Ansin, "I Don't Believe That It's Easy To Back Into Revenue In This Industry, There Are Just A Thousand Things That Can Go Wrong"
Episode #141: Radio Show: 34 of 40 Countries Have Negative 52 Week Momentum…Big Tax Bills for Mutual Fund Investors…and Listener Q&A
Episode #140: Ralph Acampora, "Don't Ever Fight Papa Dow"
Episode #139: Taz Turner and Nate Nienhuis, "We're Really Driving At What We Feel Is The Holy Grail of Cannabis"
Episode #138: Yariv Haim, "You Should Never Try To Reassess Your Risk Appetite When Markets Crash"
Episode #137: Emily and Morgan Paxhia, "The Growers Who Focused On Creating Efficient Operations Are The Ones That Are Still Around Today"
Episode #136: Steve Romick, "Value Investing Is, To Us, Simply Investing With A Margin Of Safety, Believing That You've Made An Investment Where It's Hard To Lose Money Over Time"
Episode #135: Karan Wadhera, "We're Still In Very, Very Early Innings For What's Going To Be An Incredible Ride"
Episode #134: Chris Cole, "Volatility Is The Instrument That Makes Us Face Truth"
Episode #133: Todd Harrison, "Humanity Has Had a 30,000 Year Relationship with Cannabis"
Episode #132: Radio Show: Since 1989 80% of Stocks Had a Collective Return of 0%… A Goldman Bear-Market Indicator at Its Highest Point in Decades… and Listener Q&A
Episode #131: David Rosenberg, "If Next Year is Not a Recession, It's Going to Feel Like It"
Episode #130: Eric Falkenstein, "I Think in the Long Run (Cryptocurrencies) Are Going to Work"
Episode #129: Meb's Take on Return Expectations, Portfolio Construction, and Practical Market Approaches
Episode #128: Claude Lamoureux, When You Have to Make A Decision, Always Make the One That Will Let You Sleep Better, Not Eat Better
Episode #127: Radio Show: Meb and Elon Musk Talk Shorting… Conflicting U.S. Valuation Indicators… and Listener Q&A
Episode #126: Karen Finerman, 'Out-of-Favorness' Is Appealing. The Difficult Part is Timing
Episode #125: Tom Barton, "The Biggest Problem Investors Have is Things Change…and They Don't Change"
Bonus Episode: Wes Gray – Factor Investing is More Art, and Less Science
Episode #124: Howard Marks, "It's Not What You Buy, It's What You Pay for It That Determines Whether Something Is a Good Investment"
Bonus Episode: Russel Kinnel – Mind the Gap
Episode #123: Fabrice Grinda, "We're Still at the Very Beginning of the Tech Revolution… We Are Day One"
Bonus Episode: Rick Friedman & Anna Chetoukhina – FAANG SCHMAANG
Episode #122: Phil Haslett, "It's a Place to Connect Interested Buyers and Interested Sellers…in Late-Stage, Pre-IPO Tech Shares"
Bonus Episode: Michael Philbrick – Skis and Bikes: The Untold Story of Diversification
Episode #121: Pim van Vliet, "The Reality Is High-Risk Stocks Earn Low Returns"
Bonus Episode: Leigh Drogen – Revenge of the Humans
Episode #120: Radio Show: Our New Trinity ETF… Egregious Hedge Fund Fees… and R&D Spending is on the Rise
Bonus Episode: Jeremy Schwartz – Net Buybacks Supplement Dividend Yields and Support Future Per Share Growth
Episode #119: Tom Dorsey, "Fundamentals Answer the First Question 'What Should I Buy?' The Technical Side Answers the Question 'When?'"
Bonus Episode: Elroy Dimson – The Evolution of Equity Markets
Episode #118: Radio Show: Record-Setting US Valuations… Emerging Market Opportunities… VC Bad Behavior… and Listener Q&A
Bonus Episode: Ehren Stanhope – Microcaps, Factor Spreads, Structural Biases, and the Institutional Imperative
Episode #117: Steve Lockshin, "We Think the Estate and Tax Planning Levers are the Most Important Levers to Push on for Clients"
Bonus Episode: Todd Tresidder – The Great Financial Forecasting Hoax
Episode #116: Sarah Ketterer, "Without a Quant Risk Model, I'd Argue an Investment Manager Is Completely Blind"
Episode #115: Steve Glickman, Opportunity Zones: "Ultimately, If You Hold for…10 Years or More…You Don't Pay Any New Capital Gains – Ever"
Episode #114: David Gladstone, "Farmland Is One of the Most Stable Assets One Can Own"
Episode #113: Stanley Altshuller, "I'm Bullish On Active Management, But I Think That You Need A Correction For People To Remember Why Hedge Funds Exist In The First Place"
Episode #112: Peter Ricchiuti, "You're Better Off Investing When Things Look Miserable"
Episode #111: Radio Show: Which Portfolio Hedge for This Market?… Is Short-Termism Harming Your Investments?… and Listener Q&A
Episode #110: Bryan Taylor, "At Some Point, the Stresses Are Going to Be So Great that Some of the Countries (In the European Union) Are Eventually Forced to Leave"
Episode #109: Matt Hougan, "Anyone Who Tells You They Know What's Going to Happen in Crypto Is Probably Lying to You"
Episode #108: Radio Show: What's More Important – Savings or Returns… What Meb's Doing with U.S. Bonds… and Listener Q&A
Episode #107: James Montier, "There Really Is A Serious Challenge to Try to Put Together an Investment Portfolio That's Going to Generate Half-Decent Returns On A Forward-Looking Basis"
Episode #106: Brian Singer, "We Don't Know What Will Trigger the Decline, but When It Happens, Our Fear Is That It's Sharper and Deeper Than Investors Would Otherwise Expect"
Episode #105: Olivia Judson, "Life Has Transformed the Planet, Which Has Gone On to Alter the Future Course of Life"
Episode #104: Ken Fisher, "If You're Worried About What Things Are Going to Be Worth Next Week…You're Going to Make Yourself Way Poorer 20 Years from Now"
Episode #103: The Asset Allocation Pyramid
Episode #102: Radio Show: The "Stay Rich" Portfolio… A Senator Wants to Ban Share Repurchases… and Listener Q&A
Episode #101:Episode #101: Paul Merriman, "The People That Have Come Out Ahead Are the People Who Have Put Their Trust in the System Over the Long-Term"
Episode #100: Elroy Dimson, "High Valuations Don't Necessarily Mean That We're Going To See Asset Prices Collapse"
Episode #99: Episode #99: Radio Show: Meb's Bullish On Emerging Markets… Strategies For Limited 401K Options… And Listener Q&A
Episode #98: Ed Yardeni, "We've Got Good Growth With Low Inflation And That's A Very Good Environment For Stocks And Okay Environment For Bonds"
Episode #97: Phil Nadel, "If You Try To Pick Winners, And You Only Invest In A Handful Of Companies, Odds Are You're Going To Lose Your Money"
Episode #96: Craig Leupold & Jim Sullivan, "From A Commercial Property Standpoint, We See Values Drifting Sideways Over The Next 12 Months"
Episode #95: Radio Show: The Short-Vol Trade Blows Up… Meb's Rare Coin Purchases… And Listener Q&A
Episode #94: Michelle Leder, "There Are Some Companies That We Know Are Sort Of Bad Eggs"
Episode #93: John Reese, "There Is No Strategy That Outperformed The Stock Market Every Single Year"
Episode #92: Andrew Tobias, "There Are Just A Few Things You Really Need To Know About Investing, And They Don't Ever Change"
Episode #91: Radio Show: Meb's Most Popular Tweet Of All Time… Signs Of The Top… Listener Q&A
Episode #90: Dan Rasmussen, "The Crown Jewel Of The Alternative Universe Is Private Equity"
Episode #89: Blair Hull, "Emotions Will Kill You In This Game"
Episode #88: Eric Clark, "I Still Believe That Alpha Is Available And Possible, And Beating A Benchmark Is Possible"
Episode #87: Mike Venuto, "I Would Suggest Seeking Out High Active-Share, Global Growth Themes"
Episode #86: A Quantitative Approach To Tactical Asset Allocation
Episode #85: Radio Show: Bitcoin Futures Are Here – What Now?
Episode #84: Howard Lindzon, "I Think There's So Many Ways The Markets Are Rigged That I Think It's Best To Just Follow Along The Trends"
Episode #83: Randy Swan, "What Do You Do When Things Are Fundamentally Overvalued, But You Want To Remain Invested In The Market?"
Episode #82: Vineer Bhansali, "The Market Is Severely Underpricing The Probability Of A Sharp, Catastrophic Loss To The Downside"
Episode #81: Radio Show: Notes From Meb's Office Hours – Listeners Are All Making The Same Mistakes
Episode #80: Claude Erb, "It Is Possible That We're In The Middle Of A Period In Which Gold Becomes The New Frankincense"
Episode #79: Jason Goepfert, "I Would Not Be Surprised At All To See A Multi-Day 5%-15% Decline"
Episode #78: Alex Rubalcava, "If You're Going To Be An Angel Investor… You Have To Be Devoting Significant Time To It"
Episode #77: Tobias Carlisle, "In Order To Find Something Genuinely Undervalued…There's Always Something That You Don't Like"
Episode #76: Phil DeMuth, "Nothing In My Global Outlook Is Telling Me It's Time To Pull Up The Anchor And Set Sail"
Episode #75: Michael McDaniel, "One Of The Biggest Conditions That Will Lead To Success Is Simply Being Invested"
Episode #74: Jeff Sherman, "There's This 'Buy-The-Dip' Mentality… Do You Play In It, Or Just Shake Your Head?"
Episode #73: Jeff Porter & Barbara Schelhorn, "Why Financial Planning? Because Investing Alone Won't Get You There "
Episode #72: Radio Show: Investor Sentiment – What Is It Telling Us About This Bull's Length?
Episode #71: Radio Show, "How To Outperform One Of Investing's Most Beloved Strategies"
Episode #70: Radio Show: The 13F Guru Meb Would Follow Today
Episode #69: Jason Calacanis, "This Is A Little, Secret Way… A Dark Art Of Becoming Truly Wealthy… Massive Wealth"
Episode #68: Corey Hoffstein, "Risk Cannot Be Destroyed, Only Transformed"
Episode #67: Simon Black,"I See A Lot Of Red Flags"
Episode #66: Radio Show: U.S. Equities: At What Valuation To Sell?
Episode #65: Emil Van Essen, "The Days Of $80 Oil – That's A Long Way Away"
Episode #64: David Varadi, "Managing Risk is Absolutely Critical"
Episode #63: Gary Beasley And Gregor Watson, "We're Trying To Really Change The Way People Invest In Real Estate"
Episode #62: Ron Lieber, "We're Not Having The Right Kinds Of Conversations With Our Kids About (Money)"
Episode #61: Jack Vogel, "(Factor Timing?) It's Next To Near Impossible"
Episode #60: William Bernstein, "The More Comfortable You Are Buying Something, In General, The Worse The Investment It's Going To Be"
Episode #59: Radio Show: The Death Of Value Investing
Episode #58: Axel Merk, "Is Your Portfolio Robust Enough For Whatever Might Be Coming Your Way?"
Episode #57: Radio Show: 17 Different Million-Dollar Fintech Ideas
Episode 56: Dave Nadig, "This Is A Big Year For ETFs"
Episode #55: Ed Easterling, "In Reality, Normal Is Actually Volatile. Normal Is Not Mellow"
Episode #54: Elizabeth Dunn, "How Can I Use My Money Most Effectively In Order To Promote My Happiness?"
Episode #53: Radio Show: Cheapest Countries Right Now For New Dollars
Episode #52: Jason Hsu, "This Is A Market Where The Average Human Tendencies Are Precisely The Wrong Thing To Do"
Episode #51: Mark Kritzman, "We Have To Question The Assumptions That Underpin Our Models… Nothing Is Simple"
Episode 50: Radio Show: Faber Spin-Off Executed
Episode 49: Steve Sjuggerud, "This Is Not What The Peak Of A Bull Market Looks Like"
Episode 48: Van Simmons, "The Rare Coin Market Can Go Up Dramatically, Quickly"
Episode 47: Ric Edelman: "47% Of The Occupations In America Will Be Gone Within 15 Years"
Episode 46: Raoul Pal, "The Biggest Emerging Macro Story In The World"
Episode 45: Gary Antonacci, "You Get A Synergy That Happens When You Use Dual Momentum"
Episode 44: Invest With The House
Episode 43: Learning To Play Offense And Defense
Episode 42: Listener Q&A
Episode 41: Doug Ramsey, "Valuation Tells Me I Should Be Lighter Than Normal On U.S. Equities And Tilting More Towards Foreign"
Episode 40:  Listener Q&A
Episode 39:  Ed Thorp, "If You Bet Too Much, You'll Almost Certainly Be Ruined"
Episode 38:  EVBettor, "Special Super Bowl Show: It's Higher-Stakes Poker Is What You're Playing"
Episode 37: John Bollinger, "People Have This Time-Frame Confusion That I Think Does A Huge Amount Of Damage"
Episode 36: Listener Q&A
Episode 35: Jerry Parker, "To Me It Just Boiled Down To One Question… Will The Big Winners Pay For The Small Losses?"
Episode 34: Holiday Collection
Episode 33: Listener Q&A
Episode 32: Brew And Brett Of PeerStreet, "We Have Long-Term Aspirations Of Disrupting The Entire Mortgage Finance And Securitization Market"
Episode 31: Mark Yusko, "Asset Allocation Matters Most"
Episode 30:  Listener Q&A
Episode 29:  Tom McClellan, "Now Everybody Knows What the Outcome Is, They Can Get Back to Focusing on Real Things That Actually Matter"
Episode 28:  Larry Swedroe "There is Literally No Logical Reason for Anyone to Have a Preference for Dividends"
Episode 27:  Porter Stansberry: "There's Going to Be a Big Bill of Bad Debt to Pay"
Episode 26:  Jeremy Schwartz, "You Should Be Hedged A Lot More Than You Are"
Episode 25:   Listener Q&A
Episode 24:  Learning To Love Investment Bubbles
Episode 23:  Gregg Fisher: "Sometimes The Best Investment Strategy Isn't The Right Investment Strategy"
Episode 22: Listener Q&A
Episode 21: Michael Covel, "We Can't Make A Prediction Worth A Damn"
Episode 20: Listener Q&A
Episode 19: Jonathan Clements, "If Money Can Buy Happiness, Then Why Doesn't It?" "Because People Don't Spend It Right."
Episode 18: Rob Arnott, "People Need To Ratchet Down Their Return Expectations"
Episode 17 – ReSolve Crew: "It's About Risk Allocation, Not Capital Allocation" 
Special Episode – Cambria Digital Launch
Episode 16 –  Listener Q&A
Episode 15 – The Trinity Portfolio
Episode 14 – Eric Crittenden:  "It's Not Greed And Fear That Drives The Investment World; It's Envy"
Episode 13 – Want Buffett's Returns? Here's How To Get Them
Episode 12 – Why 'Shareholder Yield' Beats 'Dividend Yield'
Episode 11 – Sam Stovall "The Seven Rules of Wall St."
Episode 10 – Listener Q&A Episode
Episode 9 – Pete Mladina – "What You Thought Was Skill Was Just Risk Premia"
Episode 8 – Starved for Yield
Episode 7 – Playing Defense Against Black Swans
Episode 6 – Three Concepts that Investors Get Wrong
Episode 5 – Jared Dillian – "If You Think 2016 is the Opposite of 1981, then You Should Do the Opposite"
Episode 4 – Wes Gray – "Even God Would Get Fired as an Active Investor"
Episode 3 – Where Are Best Global Values Right Now?
Episode 2 – Patrick O'Shaughnessy – An Unexpected Drop-in from Patrick O'Shaughnessy
Episode 1 – Global Asset Allocation – Investing 101